Ballet shoes are a necessary part of any ballet dancer's wardrobe. They protect the feet and allow for the proper movements when dancing. However, one common question that arises is whether or not it is acceptable to wear socks with ballet shoes.
Yes, it is acceptable to wear socks with ballet shoes. Thin socks are typically worn by children with their ballet shoes. The transition to tights by both males and females generally occurs during the tween years, although many young children also start with tights in the first place.
The transition from socks to tights has much to do with the line of the leg or ballet aesthetics.
It is also because children generally wear elastics on their ballet shoes to hold them in place and transition to tights when they start wearing ribbons.
The transition to tights by both male and female dancers can also have to do with puberty or maturing and what a dancer chooses to wear under their leotard as they get older.
So read on for some fascinating facts that you might never have thought of as to why most dancers choose to wear tights rather than socks in their ballet shoes!
Do kids wear socks with ballet shoes?
Yes, kids can wear socks with ballet shoes instead of tights. Some dance and ballet studios and even syllabuses that take children through ballet exams actually prescribe or prefer that they do.
Just confirm with your teacher or studio what they prefer especially if there is a formal dress code or uniform. If your studio has no strict policy on what is to be worn, then go ahead and dress your child in socks – read on for the type of sock that works best!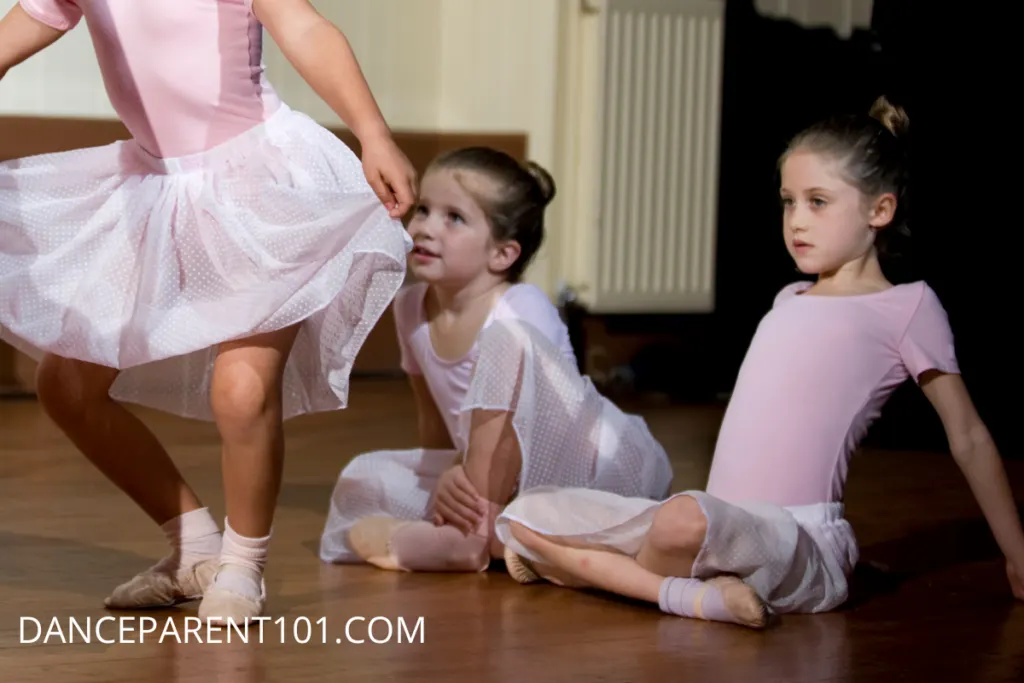 8 Reasons Why Children Wear Socks with Their Ballet Shoes:
There are many reasons why teachers and parents prefer to put their children in tights and I will outline some of those reasons here.
They are easier to put on a child compared with tights.
Socks seem to cause young students less distraction than tights because they are used to wearing them.
Tights can be itchy or scratchy on young children
Tights can pull downwards causing the child to constantly pull them up.
Teachers are not generally concerned with the shortened appearance socks give the leg compared with tights on young children.
Visible panty line is generally not an issue for young dancers and therefore tights are not needed in place of underwear for hygiene (read more about that in our article here).
Tights provide modesty for older dancers, this is generally not an issue for younger dancers.
Tights tend to get holes in them more easily. Socks will in most cases outlast tights!
Children generally don't wear ribbons on their dance shoes. Ribbons are worn with tights rather than socks for both functionality and looks.
Can Adults or Teenagers wear socks with their ballet shoes?
Let's face it, putting on tights, especially on a hot or muggy day isn't easy. Or perhaps you hate tights because they always feel as though they are falling down? Therefore you might be wondering if it is ok for older kids and dancers to wear socks with their ballet shoes too?
The answer is yes, anyone can wear socks with their ballet shoes, but it just isn't the preference of most dancers who take ballet seriously for the simple reason that it can ruin your balletic or aesthetic lines.
It also is not the preference of many dance teachers and studios who ask that their students wear tights. However, generally, this rule does not always apply to the adult students taking recreational ballet.
Another reason for not wearing socks is if your ballet shoes have ribbons. Ribbons are much easier to tie with tights on, they won't come loose or fall down if the sock moves or isn't tall enough on the calf and they look better with tights than socks!
For those wishing to wear socks in their ballet shoes consider some of the following:
Wear thin socks with your shoes in case you need to wear them with tights in the future. Thick socks can stretch your shoes making them loose when worn with anything other than those exact socks.
Try finding knee or calf-high socks and wear these under leggings.
Your ballet shoes have elastic and not ribbons.
One other option you might want to consider is buying a box of disposable socks. My daughter kept the pair she used to try on her tap shoes at the dance shop.
Although they didn't last forever, she found them very comfortable. This is not an option for everyone as these socks are thin like hosiery, but they may be the perfect option for you?
I would suggest ankle length as those ones that hide in your shoe may be uncomfortable and sit underneath the casing of your ballet shoe.
What is the purpose of wearing socks or tights with ballet shoes?
Whether your dancer wears socks or tights in their ballet shoes, at the foot end – they both serve the same basic purposes.
Ballet shoes slip on and off more easily when socks or tights are worn.
They create a barrier or layer between the shoe and foot.
The barrier can help with comfort against the seams and casing of the shoe.
The layer can help wick away sweat and smells so the shoe does not absorb it all
What type of sock is best for children to wear with ballet shoes?
It is best for the socks worn by children with ballet shoes to be thin, as ballet shoes can stretch and become larger if bulky sports socks for instance are worn with them.
My daughter wears a pair we bought from our local dance store made by the dancewear brand Energetics. I like them because they are made from a similar material to tights and are thin like tights.
Dance Socks we Recommend for Kids
I have no affiliation with the brand Energetics but to pay in US dollars click here and for the Australian Website Click here. They are shipped internationally from Australia.
Alternatively below are a few options I found on Amazon. The first pair I have suggested below are made from bamboo and have moisture-wicking properties.
The other two are thin school socks made from 70% cotton, 27% nylon, and 3% spandex. This type of sock is seamless and should be fine for kid's ballet. I like them because they also come in light pink!
What socks not to buy to wear with ballet shoes?
Firstly do not buy bulky sports socks as these will stretch ballet shoes, making them loose on the foot if wearing them with thin socks or tights in the future.
Although I have recommended reusable sheer socks above for adults, these would not be my first option, especially for kids. These types of socks are similar to hosiery. They may help your child get their shoes on and off easily, but they will tear easily and you will constantly be replacing them for your child!
Do not buy no-show socks or liner socks as these will most probably slip off the heel and be uncomfortable around the seams and casing of the ballet shoe.
Performance Dance Socks Vs Dance Socks that Go Inside Shoes!
Just be aware that there is a new type of dance sock that has recently been developed that will be more expensive to purchase than the dance sock you are after to wear inside ballet shoes. These socks are compression socks and are made to be worn without shoes, mainly for contemporary or modern dancers however some ballet dancers like to wear them in place of flat ballet shoes for technique classes. Some examples are Blochsox or Appollo Shocks sold at our affiliate partner Dancewear Solutions.
Why Do Dancers Wear Tights?
Tights are worn by ballet dancers because they help to create a long lean line from the hip to the end of the toe. Wearing socks that stop at the ankles generally shortens the appearance of the leg and therefore tights when worn over the foot and in the ballet shoe create more aesthetically pleasing balletic lines.
Wearing tights is also better for tying ballet ribbons which is why dancers often prefer to go barefoot inside of their pointe shoes rather when not wearing tights rather than wear socks!
Children can get away with wearing socks, because when they are young, although the teacher is aiming to create pleasing balletic lines, the focus is on developing technique and a strong base in ballet. As children get older and they begin to understand the aesthetics of the art form, they generally themselves want to wear tights so they can see these lines reflected in the mirror.
Children also generally wear elastics on their ballet shoes rather than ribbons, so they don't need tights to help keep the ribbons secure.
Another reason that older children may want to wear tights is for modesty. As their bodies change both girls and boys begin to feel more comfortable wearing tights – for girls under their leotards and for boys over them.
For more information and further explanations on why dancers wear tights read our article Why Dancers wear pink tights for ballet? (History and Important Facts)
Is it ok to go barefoot in ballet shoes?
Yes, it is ok to go barefoot and not wear tights or socks in ballet shoes, however many traditional teachers and studios frown upon the practice for ballet classes.
You will find many older students or professionals wear transition tights (tights with a hole in the sole of the foot) and role their tights up around their calf or wear leggings and wear their ballet or dance shoes with bare feet.
However, there are several reasons why you may not want or be able to do this
Dance Studio uniform policy may require dancers to wear dance socks or tights.
Bare feet can be more difficult to get in and out of ballet shoes.
Sweaty bare feet can cause dance shoes to smell quickly and may have a stronger odor than those worn with socks or tights.
The casing and seams of ballet shoes can be tight and create marks or cause pain to bare feet.
Tights and socks do wick away some moisture, going barefoot in ballet shoes means the linings of the shoes absorb this. Some say this decreases the life of the shoe.
Can I wear socks with my Pointe Shoes instead of tights?
I would not recommend wearing regular socks with point shoes instead of tights. Dance socks that are made of the same material as tights would be fine as long as they were long enough to go above the ribbons.
Regular socks will stretch the pointe shoes making them loose and dangerous to dance in if you need to wear tights with them at another time.
Some dancers prefer to go barefoot in their pointe shoes using padding for their toes because they dislike how their heel slips in their shoes with tights on. Others go barefoot in their pointe shoes.
Other Articles you might like to read
Check us out on Pinterest!