By Lesley Mealor / Edited by Samantha Bellerose, B.Ed, Dip.Dance(Performing Arts)
If you've signed your child up for dance lessons, one of the first things you'll be required to do is purchase the right shoes – but what are the right shoes? Different styles of dance require different footwear, and it's important to have your child properly fitted in the correct shoes before they head into their first dance class!
There are four main things you need to look for when choosing the right shoes for dance lessons. These are the shoes' function or purpose, how the shoes fit, the quality of materials used, and how well they have been constructed.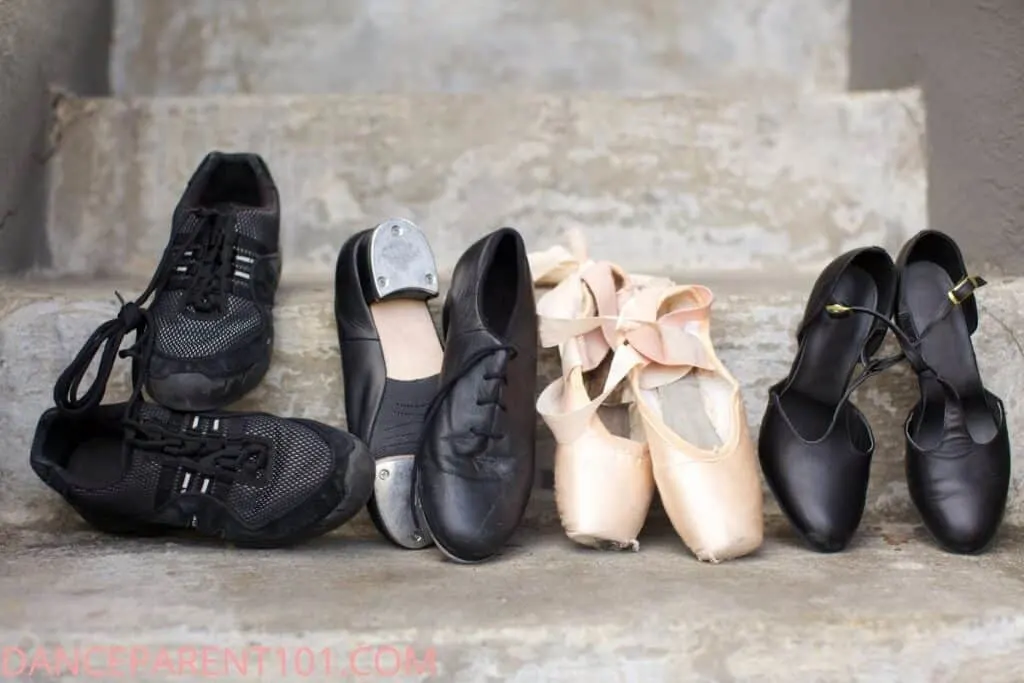 With so many brands and styles on the market, it's no wonder you may need some expert advice in choosing the right shoes for your dancer. Even more important than how they look, a proper fitting in the appropriate shoes by a dance shoe specialist will ensure your dancer's safety and health in their new classes.
Each style of dance has its own requirement for shoes, and further, each studio or dance school may have its own dress code which you will have to adhere to. The suggestions here are likely in line with what your school may require but always check with the studio before purchasing dance shoes. In this article, I will cover the basics of the kinds of shoes needed for ballet, pointe, jazz, lyrical and contemporary, tap, hip hop, and theatre dance.
For a more in-depth look into each kind of shoe, and recommendations for our favorite brands and styles, see the included links in each section.

Why Function, Fit and Quality of Dance Shoes is So Important!
Function
You wouldn't buy tap shoes for a ballet class or buy ballet slippers for a hip hop lesson, therefore the function and purpose of the shoe is extremely important.
Fit
Dance shoes must fit properly in order to function correctly in all styles of dance – and it's important to remember that how a dance shoe fits is different than how a street shoe fits!
Quality of Materials
The cheapest shoe on the market is likely not using the best quality materials, and will not hold up to hours of wear in the studio.
Construction
It is also important to ensure your shoes are well made and designed. As with the quality of materials, there are many manufacturers out there who produce shoes that look like a dance shoe but are copies of other better brands.
How to Choose the Right Shoes for Classical Ballet
In ballet, there are several different shoe options dependent on skill level and the style of classical dance your child is doing:
Leather or Canvas Ballet Shoes or slippers
Demi Pointe Shoes
Pointe Shoes
Character Shoes
What Are Ballet Shoes?
Ballet shoes are soft, flat slippers that fit snug like a sock to allow the full expression of the movement of the feet. All levels of ballet dancers use ballet shoes. You can find ballet shoes in a variety of colors, and in either a full sole or split-sole option. Ballet shoes come in two different types of materials which have their own unique benefits and detractions, canvas or leather.
Find out more about how to select the right ballet shoes for your dancer here.
What Are Demi Pointe Shoes?
Demi pointe shoes are soft shoes similar to pointe shoes, with a shaped box and no hard shank. Made of satin, demi-pointe shoes were developed to give young dancers an idea of how a pointe shoe would feel before transitioning into a hard shoe. In a demi-pointe shoe, the box is not hard enough to go en pointe, and this should not be attempted.
In today's ballet world, demi-pointe shoes are not used as often because many dance educators have seen more benefits from strengthening the muscles of the feet at the barre and in center exercises without having the dancer invest in another pair of shoes. One benefit of a demi-pointe shoe is that dancers can practice sewing and caring for their shoes.
If you are interested in purchasing a pair of demi-pointe shoes, click here.
How to Choose Pointe Shoes for Ballet Class
Pointe shoes are hard shoes worn by advanced dancers, made of layers of paste and cardboard (similar to papier-mâché). The sole of pointe shoes, known as the shank, is made of scored leather on the outsole, and layers of leather, burlap, or cardboard on the inner sole, and helps support the dancer while balancing on the box of the shoe.
Pointe shoes are incredibly unique to each dancer, and should only be purchased with approval from your child's dance teacher. Because a dancer puts their entire weight on the tips of their toes while dancing en pointe, shoes must be fit properly by a professional pointe shoe fitter.
The anatomy of a pointe shoe is important to understand when looking to buy your first pair. For an in-depth look at how pointe shoes are constructed and what to look for when being fit, click here.
How to Choose Character Shoes for Ballet Lessons
Character shoes range from soft, ballet-like shoes with a small heel to semi-flexible shoes with tapered heels of varying heights. The soft shoe option is used to allow for more flexibility in the foot, and for younger children to get used to dancing in a heel. Character heels are hard-soled with either a T-strap buckle closure, a single strap buckle or even an elastic and come in black, beige, or white.
Additionally, you can buy split-sole character heels that allow for more articulation and are often seen on professional dancers. Soft character shoes like these come in leather or canvas, while hard-soled and split-soled heels come in leather.
There is a huge range of character shoes on the market. To find more details about which character shoes may be the best for your dancer, head over to this article.
How To Choose the Right Shoes For Jazz Dance Class
There are many options on the market in the jazz shoe category, with innovative materials and constructions.
Full Sole Jazz Shoes
Split-Sole Jazz Shoes
Lace Up or Slip-On Jazz Shoes
Jazz Sneakers
The basics of a jazz shoe include a snug fit like a sock, a slip-on or lace-up design, a small heel, and either a split or full sole. The majority of jazz shoes on the market are made of leather only, leather with neoprene or elastic inserts, or stretch canvas material.
Some dancers also choose to wear Jazz Sneakers if the type of jazz class they are attending incorporates funk, commercial or hip hop styles of dance. Jazz sneakers are heavier than jazz shoes and so are not often worn for strictly jazz lessons, although they come in useful if performing on a surface such as grass or gravel (like at half time at a football game). Many dance teachers prefer to wear jazz sneakers whilst teaching as it allows them to articulate their foot during class but also move around the studio and building with more support, as well as the added bonus that the shoes will last longer than a jazz shoe would for all day wear!
For more information about how to choose the right jazz shoes, head to this article.
Choosing the Right Shoes For Contemporary and Lyrical Dance
Contemporary and lyrical are two dance styles that, like some jazz techniques, can be done barefoot. However, there are several options of shoes for these styles of dance that have become popular over the last 20 years which have their own unique functions.
Dance "paws"
Half-soles
Dance socks
These styles of footwear serve as a low-profile option for dancers wishing to eliminate extra bulk on their feet and create a seamless look on stage. They are useful to decrease friction between the ball of the foot and floor, especially during turns.
To find out more about contemporary and lyrical shoes, click here.
How To Choose The Right Tap Shoes
Tap shoes come in a variety of styles, from flats to heels. When choosing a tap shoe, you will have the following options:
Mary Janes (strap and buckle)
Full-sole flat Oxford (Lace ups)
Split-sole flat Oxford (Lace ups)
Character heels in a few different heights (strap and buckle)
Tap shoes are meant to fit like a dress shoe, tightly and with very little "growing room". Tap shoes nowadays generally come with tap plates already attached, unless you are purchasing a custom-made professional level tap shoe, in which case you may purchase tap plates separately and have a cobbler or shoe repairer attach them.
To find out even more in-depth information about how to choose the proper tap shoes for your beginner through advanced dancer, click here.
Choosing Shoes For Hip Hop Dance Classes
Since hip hop is a street style, the shoe requirements are less strict than some other dance styles like ballet. The main options for hip hop shoes are:
Split sole dance sneakers
Full sole dance sneakers
Full sole street shoes
The important thing to remember with hip hop shoes, as with all dance shoes, is that they are to be worn only in the studio, to minimize tracking in dirt from street shoes into the dance space.
If you're looking for some great hip hop shoe options, find out more info in this article.
Choosing Character Shoes For Theatre Dance, Jazz or Ballet
Character shoes are used for multiple styles of dance, including theatre dance, jazz, and ballet. Which shoe you purchase will depend on the style of dance you are studying. Options for character shoes include:
Soft character shoes with a small heel
Hard character shoes with a 1.5"-3" heel
Split-sole character shoes with a 1.5"-3" heel
In addition to the basic styles listed here, you may also choose from multiple colors and strap styles. Character shoes come in a variety of materials including leather, synthetic leather, and canvas. For help choosing the best character shoes for jazz, theatre dance, or ballet, click here.
Time to go buy your dance shoes!!
Hopefully, you are now equipped with the basic knowledge of the kinds of dance shoes that are available for many popular styles of studio dance. Be sure to consult each individual article for the styles of dance you're interested in to find out even more details about the kind of shoes you can purchase! Happy dancing!
More articles about Dance Shoes on the Dance Parent 101 Website!