It is Easter time, and you have kids who love everything and anything that is about ballet or dance. So why not combine their passion for dance with an Easter-themed craft or activity to help celebrate the holiday and season!
Finding crafts and activities that are specifically dance or ballet-based sounds simple but it actually took quite a bit of time and research – none of which you have to do because we scoured the web and found the best Easter Craft and Movement Activities out there for your budding ballerina, tween hip-hopper or avid tap dancer.
If you are after more craft activities for your dancers check out our other dance craft articles here. And also please note, that most links on this page will take you to the people who created the activity, and others are affiliate links which means if you make a purchase, we receive a small commission which helps Dance Parent 101 continue to make wonderful free content for you just like this!
Lets get onto our list…
Easter & Spring Themed Craft Activities for Ballet and Dance
---
1. Ballet Bunny
Stacey Gibbon at Glued to My Crafts Blog created this cute bunny ballerina craft activity.
I cannot seem to find the page for this actual craft on her website any longer – I found the image on Pinterest and the link takes me to another dance craft.
But I think that you can probably see that you would need a rabbit cutout, some cupcake liners, pom poms, eyes, bows, and other crafty bits and pieces with some glue to then let your child stick and make to their heart's content!
---
2. Tutu Easter Basket
So this Tutu Easter basket is just darling!!!
I really think any little dancer would love this to go on an Easter egg hunt on Easter morning!
The best thing is that your little one can help you thread through all the pieces of tulle and help you make this adorable basket.
For instructions check this craft out at Adventures in all things Food by Andrea Kruse.
---
3. Bunny Headband for Dance Class
Kimbo at A Girl and a Glue Gun has the instructions for this cute bunny ear head band on her website.
This would be a great activity for kids fingers and fine motor skills and they would look great on your dancer during an Easter themed dance class that many studios hold just before Easter – Well our studio does – check out my daughter Sydney on our Instagram Page with her bunny ears and painted whiskers at ballet class!
---
4. Dancing Handprint Chick Puppets
Emma at Kids Craft Room has put together this fun dancing spring chick craft for kids to make!
I know my kids love getting paint all over their hands, but I can see that my younger kids would need a fair bit of help going through each step of the process.
In the end though, I know they would be proud of their accomplishment and would love jiggling their chick around making it dance!
---
4. Easter Bunny Ballet Bun
As soon as I saw this I knew I had to include it in a round up of easter crafts for dancers!
Rebecca at Simple as That loves to do different and silly things with her girls hair and on her blog she gives you all the instructions and info on the materials you will need to make this Funny Bunny HairDo! Go check it out here!
---
6. Easter Bunny Costume Mask
This mask was made by Kizzie one of Wendy's kids at Inside The Wendy House.
Kizzie also made an instructional video and they have listed all the materials you will need on their website which you can check out here.
This one again could be for an Easter-themed dance class or the costume for performing a dance your child creates and choreographs all about Easter at home!
---
7. Bunny Hairpins
Ok so these bunny hair pins are actually for sale at the Carolina Dance Wear Online Store.
But as a Dance Mom I can absolutely see how I could turn this into a fun craft for my dance kids.
And not to give away all my secrets but I actually think making a set of these and giving them as Easter gifts to my girl's dance friends would be a great alternative to giving chocolate!
---
8. Knitted Bunny Tail Ballet Slippers
Can your dancer knit? Or is it something they have been wanting to learn??
I know that when I first learned to knit that I was relegated to lines and lines of knitting which ended up as scarves which got quite boring after a while!
Therefore why not check out this knitting kit for these cute pom pom shoes that remind me or little bunny tails. Perfect to warm cold dancers' feet in the studio between lyrical or contemporary classes when they are barefoot!
---
9. Crotchet your Own Toy Ballet Bunny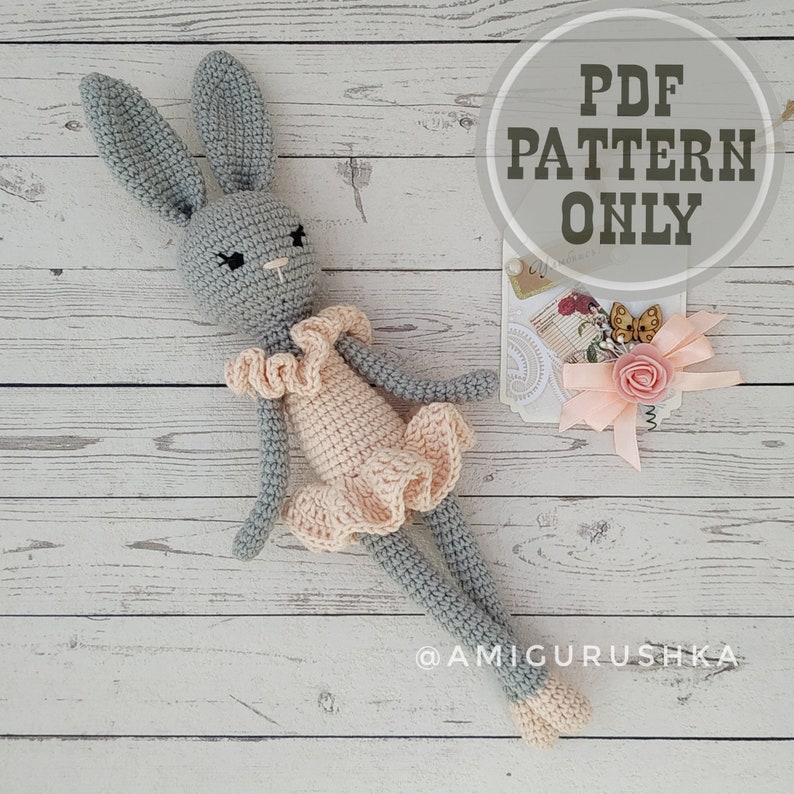 Can you or your kids crotchet or are they wanting to learn how to??? This cute bunny ballerina would give most budding crafterinas the motivation to get started!
You can get the pattern for this adorable dance craft from Etsy seller Olga owner of AmigurumiStuffedToys by clicking here.
---
10. Bunny Keychain for Dance Bags
Why would a dancer want a keychain I hear you asking??? Well my girls would definitely love these for Easter to put on the zippers of their dance bags!!
Dance kids love putting cute keychains on their zippers to help them know which bag is theirs especially if their dance school has a studio backpack – this way they always know which one is theirs!
The Craft Passion Website has a free pattern and plenty of instructions on their website on how to make these – so make sure you go and check it out here!
---
11. Easter Bunny Hat Costume for Dance Class
If you are after an Easter craft that comes in a kit for a group of dancers – then this one is it!
This headband comes in a kit of all it's pieces that need to be put together and the website says the entire kit will make 12 headbands! Which sounds great if you are a preschool or kindergarten dance teacher!
You can find out more about how to get your hands on this one at Oriental Trading.
---
12. Easter Flower Headband for Ballet Class
If you don't want to make a pair of bunny ears from scratch you can try this craft instead by Cassie Fairy.
Here she has decorated and put her own stamp on a pair of store bought ears.
I love how she has even covered the inner ears with a unique beautiful material! There are so many different ways you could decorate yours – perhaps with some ballet or dance-themed material or leftover material from a recital or even by cutting up an old costume your child doesn't fit into anymore and making a wearable memory from it!
---
13. Easter Bunny Costume Ears
These ears I found on Pinterest with no forwarding website. But you can see the steps set out in the images.
These would be great for an Easter Themed dance class as they look like they would sit really comfortably around the head is held on with elastic!
This craft could be for an older child who could try and work out the pattern and how to put it all together themselves!
Share this article on Pinterest Now!
Check Out our Google Web Story
---
Other Articles That Might Interest You: