Being a dance teacher is a demanding and rewarding job. The greatest gift is seeing a student fall in love with dance and grow in their learning. If you're looking to show some appreciation to your child's dance teacher or there is a dance teacher in your life, there are many ways that you can pamper them or make their job a little easier. A dance teacher has to source their main needs for themselves: strong knowledge of their craft, an understanding of pedagogy, and never-ending supplies of energy and creativity, but, thankfully, if you are looking for a gift, you needn't look any further.
All dance and ballet teachers need access to good ongoing teacher training and associations that help them improve their teaching and business. Good gifts are memberships to such programs or items like bluetooth speakers, lip balm, massage balls or even a gift card for a good spa service!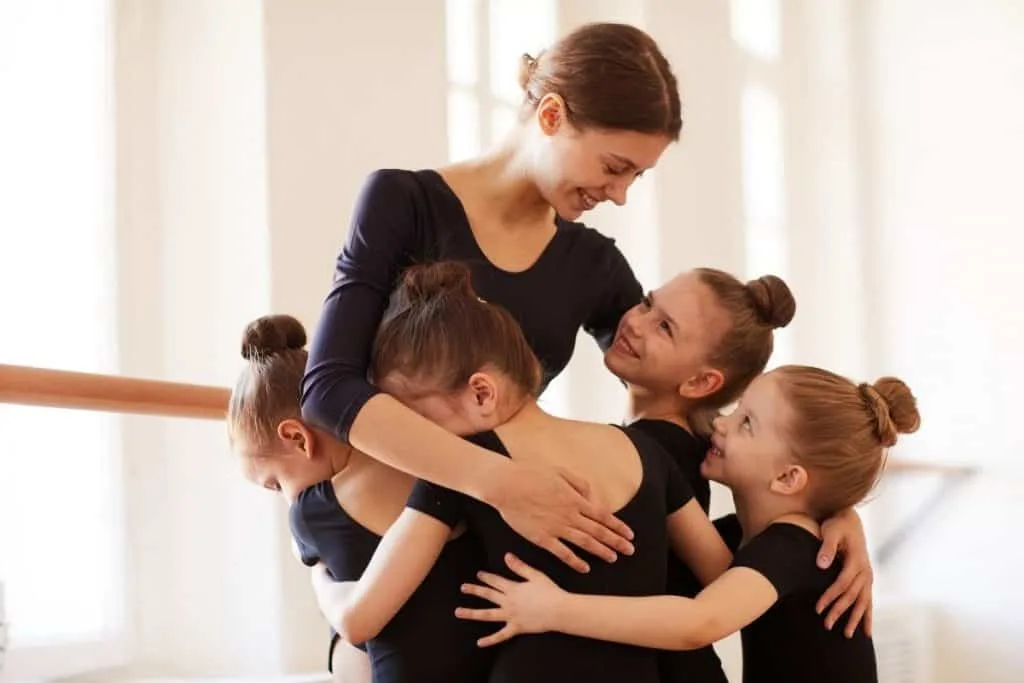 Every year, I get asked what to buy for dance teachers and students. It's difficult because the industry is so vast – there are many different styles of dance and classes offered in studios all over the world! With that being said, I wanted to make a list of items that every teacher needs. This gift guide will help you find a present for any teacher or dancer on your list!
If you click on the titles to most items listed you will be taken to the website where you can buy or puchase the item. Most of these links are affiliate links, which means danceparent101.com receives a payment if you end up purchasing any of the items we have put together in this list for you, at no extra cost to you.
What Every Dance or Ballet Teacher Needs!
Apolla "shocks" are a cross between a shoe and a sock. They are compression socks specifically designed for dancers working on a variety of surfaces. Shocks come with or without traction, so they can be worn inside a dance shoe or instead of a shoe altogether. Many dance teachers report their bodies feeling much better after they started wearing shocks. There are a few different styles available; I personally have worn the leg warmer version and noticed my legs felt less tired after long teaching days. For what looks like a pair of socks, shocks are fairly expensive, so they are a nice gift that a dance teacher might not buy for herself.
21st-century technology is great, but if you rely on it to do your job, the battery probably takes a pretty good beating. A Portable Battery Charger is a smart thing to keep in a dance bag. And if your teacher already has one, they could keep this as a spare at the studio for if there was an electrical outage, or in their car for emergencies or for their home. There are so many uses for one of these, that buying one can always be put to good use in some way! And if you are creative or have a Cricut machine you can always personalize their charger with your dance studio name or teacher's initials with a vinyl decal or something similar!
A Massage Gun takes the work of a foam roller or tennis ball up quite a bit, and the vibrations help get to the upper trapezius muscles (the ones between the neck and shoulders) in a way that a foam roller or ball just cannot. These range from basic budget-friendly models like this Tyiaus model, to intermediate guns with lots of heads like the Legiral Le3 Massage Gun, all the way to majorly fancy, like the Theragun.
4. Dance Studio Owner Business Memberships
There are many associations and organizations out there that currently offer support and business services to dance teachers. Many teachers have so many other expenses to worry about that joining a membership like this can seem like a luxury, but for many being part of a group of like-minded people can not only improve and help to sustain their business but help to build friendships in a somewhat otherwise very competitive industry!
I have no affiliation to the following programs in anyway at the moment, but Two that I particularly think are valuable are Dance Studio Owners Association run by Clint Salter and Dance Studio Owner created by Suzanne Blake Gerety and Jill Tirone. Both of these programs offer memberships but not gifted memberships as far as I can see. But regardless – these programs can help your teacher develop their business from one that is surviving to one that is thriving, that can only be beneficial to their dancers. Therefore you could create your own gift card and/or collect money from other dancers to specifically pay for a membership for your teacher!
A big giant dance bag can easily become a chaotic mess for most dance teachers, and having supplies with you but lost in your bag just doesn't count, especially when you don't have alot of time between classes or when you need those important forms at a competition. These cute organization bags and portfolios that come in a selection of colors can help your dance teacher keep their small things neat and tidy inside their bag.
As much as the world has gone digital, there is nothing like planning a class or piece of choreography with pen and paper. I love the sleek look and durability of a classic Moleskine notebook (made from oilcloth and cardboard). Pens, however, have an odd habit of going missing (I've been known to lose a few in the course of a single class, only to find them lodged in my ponytail hours later), so I highly recommend a bulk supply. If you are after something a little more dance kitsch or niched in design why not take a look at our resource page with dance journals, diaries and notebooks here!
This might be another gift for the feet, but dance teachers can be on them for most of the day and so gifting them something that pampers their feet is always a great idea! As a teacher, I know that you do not move nearly as much as your dancers do in the studio and can end up becoming very cold whilst teaching especially in the middle of winter! So the perfect gift could be something to keep their feet or hands warm like a pair of dance booties or even rechargeable battery-heated insole inserts! I particularly like the idea of having rechargeable electric hand warmers like these awesome ones here on Amazon! You can also check out our awesome list of ideas to keep your teacher's feet warm on even the coldest of days on our Dance Foot Warmer resource page here!
We all know how important it is to stay hydrated and keep your energy up while teaching dance classes. The thing is while teaching all day or rehearsing all night, your teacher can't just run out and get themselves a coffee or hot chocolate on those cold winter days, or buy an ice-cold drink to cool them down in the summer. A thermos or insulated tumbler for hot & cold drinks is a great gift idea for any dance teacher not just to make their lives easier but to make them feel like they are not missing out on getting their coffee hit during the day!
A traditional thermos like this one by Stanley, can keep your dance teachers preferred drink of choice cold or hot all day so that they can treat themselves to a drink even at the end of the day (if there is any left!). But what is even cooler are these new insulated 40oz tumblers like this one by reduce with handles that have recently come out that keep drinks at the right temperature without condensation so that your hands don't get wet from touching the outside of the cup. Plus, the tumblers have an easy carry handle and they fit into most car cupholders! But what is even better about these insulated tumblers is that you can drinks from them with a straw or like a cup!
Dance Teacher Magazine is a great gift for any dance teacher or someone who would like to be a dance teacher. The magazine provides many great articles on how to become an effective dancer, but it also helps with the more mundane tasks of running a successful studio. One article talks about how to keep students engaged in class by teaching them new choreography and giving them opportunities to perform at recitals. Another article discusses what qualities make up an excellent instructor – one that can inspire their student's creativity while still keeping order in the classroom! Dance teachers are constantly looking for ways to improve themselves and this magazine is full of useful advice that they won't want missing from their collection!
If you know your teacher is already subscribed to this one, why not check out our dance magazine resource page that lists other dance magazines they might be interested in getting as well!
10. Professional Development Course or Membership
All teachers need ongoing professional development, but the thing is all teachers have different needs and are at different levels in their experience and knowledge. Two programs I specifically would love to be gifted would be Dance Ed Tips or Progressing Ballet Technique. Both of these programs offer different things. Dance Ed Tips offers access to printables and activities for the dance class as well as up-to-date help with things like going virtual and online, whereas Progressing Ballet Technique offers hours of video and training on how to improve a dancer's ballet technique. If you are wanting to get your teacher something extra special, and are going all-in on a gift with your team or group – I would print out the information for these memberships and put them in a card, and ask them to choose and that the fees for the year will be paid once they make their choice! Or alternatively, chat with them and get the information you need for your purchase beforehand!
---
Technology Gift Ideas for Dance Teachers
Most dance teachers do not have the luxury of live accompaniment for their classes and use either their phones, tablets, or computers to play music (we have come so far from when I used to lug around notebooks full of CDs, and my teachers who toted around cassette tapes, but I digress). These items are expensive and rely very much on personal preferences and circumstances, so while it would be incredibly generous to update a dance teacher's technology, you need to make sure you know what your teacher actually needs otherwise you may be disappointed to not see them using what you have bought them in the dance studio. Having said that, if it is not perfect for class they can use it in their personal life and a gift should be something your teacher can enjoy as well. So if someone were to buy me, in particular, an item like this I would prefer some of the following!
Dance teachers are constantly listening to music. Between researching new pieces and creating choreography, there is always a reason to be listening for new tunes. Airpods or skullcandy ear buds are a great tool giving the teacher the freedom to move around without being encumbered by the wires of headphones. And don't worry if they already have a pair – having a set for their dance bag or studio or just a spare pair can be super handy
Most teachers nowadays generally use Bluetooth speakers to play music from their phone, laptop, or another device that holds all their music. But sometimes things happen and their system isn't connected or working for them. Or they may already have a portable bluetooth speaker, but the thing about portable Bluetooth speakers is that they need to be charged and can be misplaced easily. Buying a reliable spare such as a JBL Flip from Amazon.com can be extremely helpful for your teacher and your studio in general! They could keep it in their office or even their car for competitions or for emergency rehearsals. You could really glam it up by adding on a decal with your studio's name to ensure it was always returned to your teacher as well!
A subscription to Amazon Music or even Apple Music or Spotify makes a great gift that a dance teacher would certainly put to good use. They may not be able to use all the music from these streaming services in the studio due to licensing laws in different states and countries, but being able to listen to as many different tracks and styles of music to prepare for classes and to choose music for routines for competitions and recitals is
Ballet and dance teachers often use laptops as part of their teaching tools, so why not get them a cool mouse that can work wirelessly with their laptops. Most people haven't upgraded their computer mouse in ages, so why not get your teacher one with the newest technology like this cute pink and white mouse with light-up LED disco dance type lights! Not only is it rechargeable but it also works using Bluetooth and you can connect it to up to three devices at the same time!!! Pair it with the portable battery charger and you might just have the perfect gift! Having a spare mouse can always come in handy and your teacher may not realize how old theirs has become and is using it even though it may not be working at its peak anymore. I know I was spending ages trying to get text to highlight only to realize that my relatively new mouse had maybe been knocked around in my bag a bit too much and once I bought a new one, using it saved so much time and frustration.
Marquee TV is a performing arts-focused streaming service, which can be gifted by the month or by the year. They can watch performances, interviews, and other videos from award-winning artists like Mark Morris Dance Group or The Royal Ballet School in London! It also includes behind-the-scenes footage of rehearsals, interviews with choreographers and dancers on tour, as well as performance highlights. If you're a parent or dancer who wants to support your teacher's passion for dance, this gift ensures that they'll be able to enjoy all these incredible moments from the comfort of their home or even studio as there is now a Marquee TV app!

---
Fitness Classes and Tool Gift Ideas for Dance Teachers
Dance teachers need to spend a fair amount of time maintaining their bodies so they can be at their best for their students. In the age of online fitness, there are a variety of subscription services that offer on-demand workouts to keep your dance teacher strong and fit.
Some to consider:
Different services allow you to gift a few months or a full year. Many of us dance teachers also geek out over different fitness props, as the same exercise can be completely transformed by adding a prop. Here are a few that your dance teacher might like to be gifted!
A yoga mat is a must-have for anyone who is working out or training at home (or just prefers to have their own mat when they take studio classes). They can be a versatile gift, as you can go classic and affordable, or a little more fancy (and pricey).
While massage balls are great to keep in the dance bag, every dance teacher needs a foam roller for their home. Not only can it be used for self-massage and muscular release, but it is a great tool for working on core stability.
are a versatile prop. A single block can help with activating different muscle groups while having two blocks can make different stretches more accessible.
are an affordable tool for fitness at home or on the go. There is a multitude of exercises that are great with the band, and the bands can be used to mirror exercises from the pilates reformer. Bands are easy to store in a small space or take up very little space in a dance bag.
both offer a variety of ways to enhance a workout. They tend to be less portable because people typically keep them inflated, but when they are deflated they can easily be folded and put away. It wouldn't be a bad idea to also include a pump to make sure the ball can be inflated and used.
Since traditional Pilates equipment like a reformer or tower is a serious investment of money and home real estate, there are a variety of contraptions designed to mirror the classics without the financial heft or footprint in ones' home. Check out this Pilates Barre for a portable and easily storable workout system.
Wrist or ankle weights might make you think of Jane Fonda and the '80s, but they have their place in barre fitness or walking workouts. Bracelet Weights bring them into the 21st century and are much more pleasing to the eye.
---
Self Care Gift Ideas for Dance Teachers
After all of our dance teaching and personal fitness work, dance teachers need some at-home pampering too!
Diffusing essential oils is a popular way of making one's home or space smell nice, as well as changing the energy of the space. An Essential Oil Diffuser with some oils makes a nice gift and can help a dance teacher to energize before or relax after a long day of teaching.
Once upon a time, dancers swore by icy hot or tiger balm (some still do and you can find some and other soothing balms on our resource page here), but another popular treat for the muscles also includes essential oils: DoTerra Deep Blue Rub.
Since so much of a dance teacher's life is on the go, sometimes the best antithesis to that is relaxing at home with a cup of tea. This tea kettle set comes with an infuser and a sampling of loose teas to let your dance teacher zen out with the flavor of their choice.
Why not spoil your teacher with a selection of teas to go with their teapot set? A lovely selection or box of relaxing teas or even an active set to start the morning off would be a sweet gift for any tea-loving teacher!
Ok so not all people love tea, so if your dance teacher is more of a coffee lover and loves to grind their own beans why not gift them a box of assorted coffees to try! This one from Split Oak Coffee Roasters has 8 different beans and a french press included!
Dance is an exhausting, all-day activity. When the day is done and it's time for parents to head home, a home spa gift set can be a great way to show your appreciation. This thoughtful gift will let them know that you appreciate how hard they work with their students and want them to feel good after teaching all day long!
Feet and shoes get funky no matter what we do. Add dancing sweat and it can be icky, especially if your dance teacher doesn't like to wear socks or tights inside their shoes (guilty over here). Help your dance teacher stave off foot funk with shoe spray. They will not be offended. I promise.
Myofascial release and other forms of self-massage can be a dance teacher's best friend. These practices help loosen up connective tissues and get the body ready to move. While many people use a simple tennis ball, these massage balls with spikes help to really get into the muscles
If your dance teacher is currently injured or in a rehabilitation stage, we have a few more ideas on our resource page that might be just what you after and you can check all those ideas out here!
Subscriptions like Birchbox or All True (Formerly Causebox) can be gifted on a variety of schedules and offer your dance teacher an opportunity to sample a variety of products. These are fun because they keep on giving, and who doesn't love getting mail?
---
Professional Development Gift Ideas for Dance Teachers
Dance teachers are lifelong learners. We love what we do and it is important to us to stay current with our field. The National Dance Education Organization and dance and the Child International (daCi) are both organizations that provide dance teachers with connections to each other and continuing education. Gifting a year's membership is a great idea! Other places where a dance teacher might want to go for PD include Rhythm Works Integrative Dance, Intellidance, Rhee Gold's Dance Life Conference and Dance ED Tips.
Besides opportunities for learning about dance pedagogy, sometimes dance teachers just need to take a class so they can dance and remember what it is like to be a student. Dancio.com and CLI Studios are online subscription platforms that offer dance classes both on-demand and live. New York City Studios like Steps on Broadway, Broadway Dance Center and Peridance Center are offering many of their classes with virtual options, and gift cards are available!
Your dance teacher can catch up on classics and follow new work that is being released specifically for the platform. Jacob's Pillow Dance Festival also offers memberships that offer online content and exciting ways to support dance.
Broadwaycares/EquityFightsAids andDancers Responding to Aids are non-profit organizations that support the theater and dance communities around the US. Broadway cares has an adorable gift shop that supports the organization, and both organizations accept donation gifts. Making a donation in your teacher's honor is thoughtful and helps support performing artists in your immediate area and beyond.
Another wonderful way to pamper a dance teacher at the holidays (or anytime, really), is to grow their library. Some great dance-specific titles include Creative Dance for All Ages, Brain-Compatible Dance Education, Dance Pedagogy for a Diverse World, Ethical Dilemmas in Dance Education, and Dance Adventures: True Stories about Dancing Abroad. Twyla Tharp's books The Creative Habit and The Collaborative Habit are great too!
You might like to buy them an educational or non-fiction book that is about the history of dance or buy them a selection of dance picture books for them to use in the studio. Whatever type of book you are after – check out our Dance Book resource pages here on the Dance Parent 101 website where we have hundreds of dance-specific books for you to choose from!
---
Other Goodies
While some might say that a woman can never have too many shoes, a dance teacher can never have too many Leg Warmers. As one is teaching, there is a lot of stopping and starting of movement, so it is hard to keep the muscles warm. Leg warmers help keep the legs toasty throughout a class, and make a great layer during harsh winter weather too. If you happen to be crafty and know how to knit or crochet, a home-made pair would be an extra-special gift that your dance teacher would treasure.
Talking all day is super drying on the lips, no matter how hydrated one is. Keeping a moisturizing lip balm handy helps to avoid uncomfortable chapped lips, especially in the cold and dry winter months. Plus, lip balm is a great stocking stuffer!
Dance teachers are always on the go, carrying multiple pairs of shoes, extra dancewear, a notebook, music, chargers, massage tools, snacks, and more. A large dance bag or supportive backpack is essential for showing up to class prepared and ready to do their thing. And don't worry if your teacher already has one, a good bag can always be used to carry something. For more ideas check out our resource page on some of the best dance bags around here!
No matter what is happening in the world having a really nice smelling hand sanitizer is a must for all dance teachers. They might have to have that bulk bought stuff out in reception but as they are probably having to reapply over and over something that is gentle on their hands and smells great is a must! But on top of that a great hand moisturizer to hydrate those overly sanitized hands would perfectly compliment hand sanitizer!
Water is essential for us all, and dance teachers are no exception. Long days of moving, sweating, and talking mean a dance teacher needs to have water at the ready all the time. Buying single-use bottles of water adds up financially and creates lots of unnecessary trash. A vacuum-sealed stainless steel bottle helps your dance teacher keep their water cold and their body hydrated.
It is its own skill to dance with one's hair down. But while teaching, it is particularly difficult to have your hair in your face. Nice Hair ties or headbands make a great stocking stuffer, as hair ties tend to have magical disappearing powers and constantly need to be replaced.
If you are the kind of person that loves giving little knick-knacks such as key rings or make-up bags with little sayings written on them you should definitely take a look at this Amazon search page full of gifts perfect for any dance teacher!
In particular, I think this key chain is pretty funny but totally true and that this small make up bag is pretty and has a great inspirational quote. The thing I love about gifts that have quotes and sayings written on them just for dance teachers is that I know the parents and students who have bought them for me, have really taken the time to find something especially for me – as it is a gift they can't give to many others (how many dance teachers do they know?) and that is what makes it special!
---
Gift Card Ideas for Dance Teachers
Gift cards are always a safe bet, here are a few that dance teachers particularly love receiving.
-Athleisure or Dancewear
Lululemon and Athleta have become popular brands among dance teachers, since we spend most of our days in leggings. You might also consider your local dancewear retailer or dancewearsolutions.com, in case your teacher is in the market for new dance shoes.
-Coffee/Tea
A local coffee shop is never a bad choice, especially if you can support a small business. If all that is available is a chain like Dunkin' or Starbucks, most dance teachers would still very much appreciate a gifted caffeine boost or afternoon snack.
-Spa Services like a massage or manicure/pedicure
Between the time it takes to get a massage or mani/Pedi and the cost of it, these services definitely fall under the category of "luxurious special treat" for most dance teachers. Gift cards for these kinds of experiences can also offer an opportunity to support small local businesses.
---
DIY GIFTS
Sometimes the best gifts are something you make, or a combination of something you have made and bought. I love looking through Pinterest for DIY ideas in particular and the following are some I think you will really like! All these gifts and instructions can be found in my Gift Ideas for Dancers board on Pinterest here where there are loads more ideas for you to look through!
Didn't find what you were looking for?
Not a problem! We have more articles and ideas for you below! Were you after something a little more specific for your tap teacher? Or after a gift for your male ballet teacher? Check out some of our other articles where you are sure to find the perfect gift to give your dance teacher for Christmas, their birthday, for recital or just to say thank you for being so great!