Dance competitions are fun, exciting, and yes, expensive. As a seasoned dance mom, the thrill and pure joy of watching my dancer perform on stage, has always brought tears to my eyes. For me, it has been worth every penny.
However, in hindsight, I wish I had known more about the costs involved.
On average families can expect to pay anywhere from $1500-$7500 traveling to and participating in a single competition. This cost does not include the years of training, private lessons, costumes, and so much more. For some families this can be a drop in the hat; for others, it requires careful financial planning and sacrifice.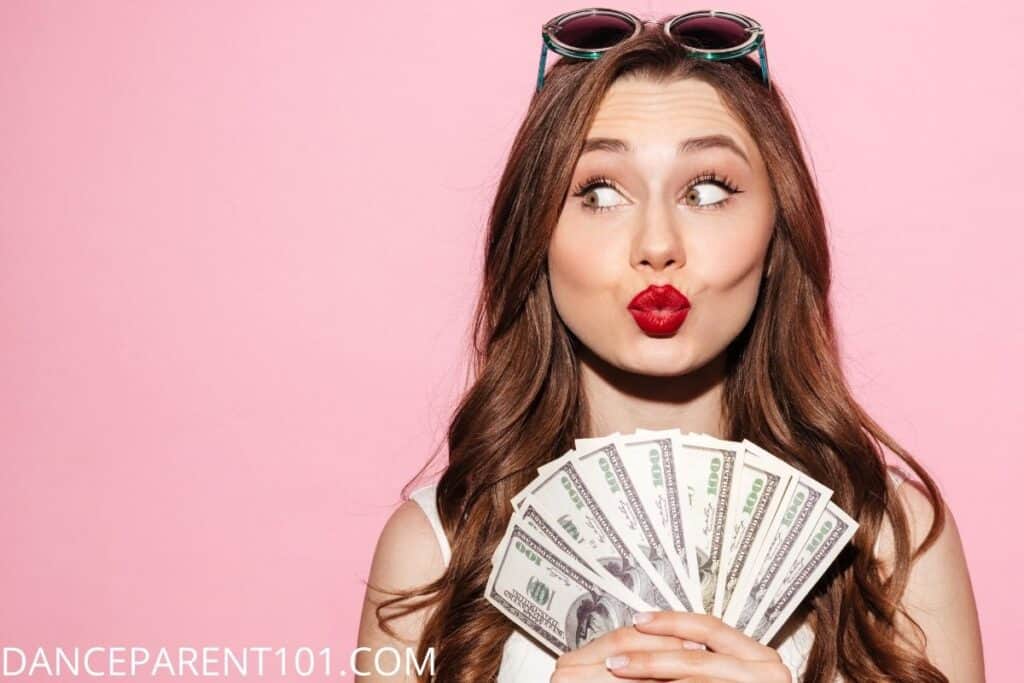 After years of dance training, recitals, and showcases your dancer is now ready to compete. How exciting! But wait, how much does that cost? Graduating from a recital dancer to a competitive dancer is a huge step and parents should have a general idea of what it entails.
COSTS TO EXPECT FOR A COMPETITIVE DANCER BEFORE THEY EVEN GET ON A STAGE
Monthly Technique Class fees
To begin with, your dancer will need to be attending regular technique classes in various styles of dance at your studio.
We have an article on the website that goes over what dance classes cost all over the US which you can read here for more information.
On average you are going to need to factor in about $250 a month for their regular classes as many schools state these are mandatory for competition company or team members.
Competition or Company Team Audition Fees
Your dancer may then have to audition for the competitive team at your studio.
If accepted onto the team they will perform team numbers at numerous events that represent the dance studio, including competitions.
Some studios do not hold auditions but rather invite hardworking and committed students from the school onto the team instead.
Auditioning may or may not cost you any money dependent on how your studio runs them.
If the studio is small and the studio owner takes the auditions they may not charge you for their time, but some studios may charge a fee to cover the costs of running the audition.
The fee would cover the costs of using the studio on the day (electricity, water, heating etc…) the competitive teachers' time not just at the audition but in developing the audition choreography, reviewing who will make the team and contacting you, or for any other administrative staff that might be involved.
This fee might be anything from $20-$50 depending on the size of your studio and the process they take to do their auditions.
After the Audition – You Accept Your Team Invitation
YEAH! Your kid made the team!!!!
And for that accomplishment, you will usually need to sign a contract which you can read more about in our article about Dance Studio Contracts here.
You will also receive an invoice for things like:
a team member fee/registration
a team uniform or leotard that needs to be worn just for competitions
costuming
fees for the extra classes they will now be involved in at the studio.
competition entry fees
You should really have received an outline of all these costs before you decided to let your child audition for the team, so they should really be no surprise to you, but you may be wondering why you have to pay them.
Competition Studio Team Membership Fees
The team member fee generally helps to cover all the administrative work your teacher will do on your behalf behind the scenes and helps to pay for their time at the competitions which they would otherwise not receive compensation for.
Different studios cover these costs in different ways and use the membership fee for different purposes so there can be big differences between what one studio might charge for example $50 to another that charges $300.
If they did not charge you they would be doing this work, that you might not always see, for free and you have to remember they are offering you a service here.
At the end of the day you can say no and not choose to go ahead being a dance competition family?
Competition Team Uniform
Being a team member may also mean a new uniform that is worn just at competitions.
Many studios do this to really make their competition team members stand out from the others at their studio as something to aspire to.
Or it may be that this uniform is only worn at competitions and not at the studio to ensure they are looking their best on competition days.
The Cost of Costuming a Competitive Dancer
Most dance teachers by the time they are ready to audition and add in more competition team members to their companies are organized to the point that they know exactly what items they will be choreographing for each age group and in which styles, to which songs and what each group will be wearing.
Knowing your costuming needs for large groups is a must for dance teachers as costumes need to be ordered for each member well in advance of a competition to ensure it arrives and that costumes fit and any adjustments, changes or embellishments can be made.
So expect to be hit with an invoice for your costuming needs even before your child starts learning their first routine, or at least towards the beginning of their involvement in the team.
Costs for costuming can be vary depending on the style and supplier being chosen by your teacher.
The same costumes that are worn for competitions are worn at recitals and so you can check out our in-depth article about the cost of recital costumes here.
But in general, expect to spend around the following per costume – per routine your child is performing in.
| Type of Costume | Cost |
| --- | --- |
| COSTUME Non-embellished | $50-$200 |
| COSTUME Embellished | $75-$500 |
| COSTUME Custom Made One of a kind | $250-$1000 |
| ACCESSORIES Hair Pieces, tights, shoes, makeup, jewelry, etc. | $50-$300 |
| PROPS Small-large | $25-$200 |
As you can see we also added in accessories and props which you will need to pay for separately to the actual costume as most do not come with these extras.
Competition Dance Class Fees
We mentioned earlier that your child will still be required to do technique lessons which they would hae previously been enrolled in.
These lessons work on developing their technique, and skill so you will now be asked to pay for the new classes your child will be enrolled in on top of those technique classes.
The number of extra classes your child will attend will depend on how many dances or items your teacher has placed them into, or how many the studio actually takes to competitions in the first place.
Some studios have one extra class a week, increasing rehearsals before a competition and others might require your child to do many more!
Then, if the studio director and teacher feel your dancer is ready to compete individually in a solo or a duet, trio, or small group competition, arrangements will be made to prepare your dancer for the performance.
This is usually a great honor and is a great confidence-building experience for most dancers but for parents, it does mean more lessons, costumes, entry fees, etc… that you will need to pay for.
The teacher and student decide on the type of dance to perform, music, costume, props, and so on.
After that, numerous private lessons will be arranged to learn choreography and master the routine.
Service
Costs and Description
MUSIC Download
Free-$50
Your teacher may need to cut and rework a song to meet timing requirements for example.
PRIVATE Lesson Solo
$50-$100 per hr.
Minimum 5 hrs in total preparation in the studio.
Practice is expected to be completed at home.
PRIVATE Lesson Duet, Trio Small Group
$15-$50 per hr.
Minimum 5 hrs in total preparation in the studio.
How much are Dance Competition Fees?
There are many different types and levels of competition. They can be classified as local, regional, and national.
Your local events are more like pageants, parades, fairs, and talent shows run by local event organisers.
Whereas your regional and national competition events are produced by Independent competition production companies that travel from city to city putting on their competitive dance events. For a list of competitions in the US check out our article Ultimate USA Dance Competition List by State with Links
These competitions are aimed primarily at dance studios to compete against other dance studios and dancers for titles, scholarships, trophies, money, and other awards.
Most, if not all, regional and national competitions also require dancers to participate in the convention which I will explain in a bit more detail further along if they want to compete.
Our dance studio plans 5 local performances, 2-4 local regional competitions, 2-4 travel regional competitions, and one national competition every year.
Regional competitions typically last 3-4 days and national competitions are usually held at a resort-type destination like New York, Orlando, or Las Vegas and can last up to a week.
Both regional and national competitions can be extremely expensive, depending on whether you drive or fly and if you plan to make it a vacation week or just stay at the event hotel.
| Local Competition | Regional Competition and Convention | National Competition and Convention |
| --- | --- | --- |
| Fair entry fee $10-$25 | 3-4 days | 4-7 days |
| Parades Free | Registration Fee $50-$350 | Registration Fee $200-$500 |
| Talent Show $25-$75 | Performance fees Solo $150-$350 Duets, trios, small groups $75-$200 | Performance Fee Solo $150-$500 Duets, trios, small groups $100-$300 |
Table with approximate Dance Competition Entry Fees
Competition Performing Cost Breakdown
Competition and performance registration fees are usually arranged through your dance studio (which is why you pay a team fee in the beginning to your studio for this kind of administration work!).
For competition and convention registration, it will cost you around $150-$350. The total cost depends on how many dance numbers your dancer will perform in.
A solo can cost between $80-$300 to enter and to register a duet, trio, or small group, you can expect to pay from $75-$200 per dancer.
Savings tip: Many dance families and schools fundraise to help supplement registration fees – check out our articles on fundraising here.
Example: To register your dancer for competition, convention, and solo performance, the average cost is $400.
This can vary greatly depending on the dance production company and quality of instruction at the convention and the location of the competition.
What is a Dance Convention?
Most, if not all, regional and national competitions require dancers to participate in a dance convention if they want to compete.
A dance convention is a series of masterclasses that are usually taught by guest choreographers and even by some of the competition judges.
The masterclasses can be in a variety of styles and your competition registration fee covers the cost of these lessons.
The fee also covers the cost of the convention venue which is usually in a hotel that is big enough to host both the competition and masterclasses as well as provides accommodation (a separate expense listed later) for all the competitors and their families.
Other Dance Competition Expenses to Consider
Travel Expenses – Getting to and From the Competition
Total travel expenses depend on whether you drive or fly to competitions.
If a competition is only 2-5 hours away, we generally prefer to drive. It is less expensive and more reliable. Plan accordingly for gas, tolls, and food.
If you choose to fly, round-trip airplane tickets range from $500-$1000 per person.
Luggage costs can range from $25-$75 per bag. Plan to purchase tickets months ahead of the competition.
Also, if you fly, you'll likely need to rent a vehicle, which can cost an additional $300-$500 for the weekend.
Travel Tip: Rent a larger vehicle and rideshare with another dance family.
Hotel Accommodation for Dance Competitions
Most competition production companies choose a large hotel to host their event.
The hotels are well equipped for large crowds and ballrooms are converted into convention rooms to hold dance classes.
The hotel then gives a discounted rate to book your stay as part of the event. Most dancers and their families stay at the hotel for the duration of the event.
However, it is not unusual for families to book a quieter, less expensive hotel a few minutes away. There are perks for either choice.
Most families stay at the event hotel since it provides convenience, and the ability to engage with other families, dancers, or teammates.
Hotel rates vary but on average expect at least $125 per night for a double queen room.
Hotel Reservation Tip: Research hotels carefully. Before booking a hotel always look at the hotel accommodations and room information. Does the room have a microwave, a refrigerator, more square footage. Do they offer free breakfast?
Hotel savings tips: Look for discounts and reduced rates. Do you have a hotel rewards program? Do you have a government discount? Research lower rates with independent, online booking agencies. Book a suite and share costs with another dance family.
Food Costs at Dance Competition
Let's face it, food is expensive and even more so when we travel.
Planning where and what to eat when staying at an event hotel has always been the most challenging for our family.
I cannot express enough, make a budget and a food plan! Research the area around the event hotel to know what your options are.
Typically, competitions are held in large suburban areas and there are lots of restaurants to choose from. To avoid traffic in an unfamiliar area, use food delivery options.
Food tip: Purchase a mini microwave to heat popcorn and other snacks and bring your drinks. Or even a min oven as most event hotels do not have microwaves in the room.
When it comes to food, setting a budget and making a food plan are essential.
The cost of food can get expensive. Ideally, set aside at least $75-$150 per person a day for food.
I know $150 a day might seem high, but we have routinely been invited at the last minute to join a group of parents for dinner.
If you don't want to be the one eating a hotdog while everyone else is eating steak, plan wisely.
Food tip: If breakfast is not included in your accommodation costs, make sure to bring something like cereal or quick oats that you can heat up in your microwave. Bring long life milk or a cooler to keep milk cold on the trip if driving from home as trying to get to a store is not always as convenient as you might think.
Competition Vendors
Almost every dance competition and convention has independent, small business vendors that set up shop right outside the convention room.
They sell anything from hair ties to dancewear and shoes.
There are always cute little stuffed animals and trinkets that catch the eye of your dancer.
The competition production company always has a table where you can purchase t-shirts, sweatshirts, tanks, and other memorabilia.
An event t-shirt can cost $20-$30.
Packing tip: Avoid last-minute errands and costs by making a packing list before the trip.
Best Luggage for Dance Competitions
Having good luggage is a must-have.
Make sure you can properly store and carry your dancer's competition costumes and accessories in a safe and organized way.
For some ideas on what you might purchase for this job check out our resource page here.
You need to ensure you purchase good, sturdy luggage and garment bags that are designed for dancers. A dancer's luggage can range from $75 to $500 depending on needs.
Other Items you should think about bringing:
There are a few other things you should also make sure you have when going to a competition that you may not always think about until after you have been to a few.
These are things like a First Aid Kit, Portable Steamer, Nail clippers, sewing kit, Disposable plates, utensils, straws, Garbage bags (great for rubbish in a dressing room but also for putting costumes and other items in if you don't have time to pack up properly), Water bottles, Extra clothes hangers, Portable dance board.

Convention Dancewear
Aside from those beautiful costumes, you will bring to the competition, you will also want to plan on what you will wear during class time at the convention.
There are usually several classes your dancer will attend. Jazz, tap, lyrical, ballet, and Latin among others. Most dancers, enjoy wearing different outfits during a convention that match the class theme.
Shop carefully, but higher quality leotards, leggings, and matching sets can range from $50-$200.
Viewing the actual competition is usually included in your registration.
However, if you want to view your dancer during class time in the convention hall you will likely have to purchase an observation band These bands are sold by the competition production company and can be purchased for approximately $25.
Sometimes, the competition production company will provide photography and videography at the event.
You will have the opportunity to view and purchase photos and videos of your dancer's performance. Rarely, photos and videos are free.
Most of the time expect to pay anywhere from $20 per photo or up to $200 for all photos and videos.
You may also find an independent photographer in the vendor area.
This is an opportunity to purchase a quick modeling shoot of your dancer in convention wear or for a headshot to be used to enter photo contests with.
Headshot photos are also nice to have in case they are needed to enter certain competitions or contests. These photoshoots can cost from $50 on up to $400.
Some competition production companies offer various contests. For example, best headshot photo, or best costume. These contest entry fees range from $15-$50.
Is being a Dance Comp Mom worth it?
The answer is yes!
It is expensive but so are other sports and activities.
Football players, soccer players, gymnasts, polo players and figure skaters, and many others compete and routinely travel.
Competition enhances performance and helps to prepare for future endeavors, goals, and dreams.
With careful planning, participating in a competition can be affordable.
Choose competitions based on your goals and budget. There is always a place for your dancer to perform or compete.
From parades, talent shows, and fairs to high-level national competitions.
Talk with your teacher if finance is holding your child back from being involved and read more about ways you can support and manage fundraising events for your studio in our article here.
Most importantly, enjoy the journey with your dancer. It goes by way too fast!!
Other Articles you might like to read:
How Much It Costs One Family for a Year of Competitive Dance
Ultimate USA Dance Competition List by State with Links
Dance Competitions Explained – Everything You Want To Know!
How Dance Competitions are Judged & Scored? What Parents Want To Know!
How much should a dance recital costume cost? We compared 25 schools!


Share this Article on Pinterest Now!
Check Out Our Google Web Story!