If you've never been to a dance competition, they are quite the sight to behold!
Imagine hundreds of dancers, all decked out in beautiful rhinestone costumes, perfect hair and makeup, and every dance shoe you can think of!
The music is pumping, hairspray and glitter are in the air, and everyone is excited to show off their hard work.
A dance competition is an event in which individuals and groups of dancers from all different studios come together for the purpose of showcasing their routines, receiving feedback from judges, and competing for placements and various awards.
Because there is no overarching governing body of dance competitions, there are hundreds if not thousands of different companies holding dance competitions all over the globe.
There are however usually only slight differences between companies regarding adjudication scales, award placements, and rules.
So generally, the information you will find here will apply to most competitions.
So buckle up – it's time to go to competition!
How Do Dance Competitions Work? The Important Facts!!!
Dance competitions typically last between one day and three to four days.
In some places in the US midwest and Canada, competitions are known to start on Wednesdays and run through to Sundays! Teresa a competitive dance mom tells you all about a weekend away in her article What Happens at A Dance Competition – A Parents Perspective
Studios enter dance routines into categories of age, style of dance, and group size, and dancers from different studios compete against each other in front of three qualified judges to receive feedback, adjudication scores, and placement awards.
Most of the time, routines will perform in a random order.
Sometimes, competitions will group them according to one or more of the above categories to make adjudicating easier.
At most dance competitions, every dancer walks away with a trophy indicating what award level they received which I write about in more detail further in the article or you can read How Dance Competitions are Judged & Scored? What Parents Want To Know!
They will also receive a critique about their performance to know what they were doing well with and what needs to be improved. The critique may be written, typed or an audio recording.
If a dancer or group of dancers receives a top placement or an overall placement in a particular category, they will also be awarded an additional trophy, medal, plaque or other special award.
Most competitions typically begin on a Friday afternoon or early Saturday morning and last until around 10:00pm each day.
Venues range from high school or college auditoriums to professional theatres, or hotel ballrooms.
Because dance although technical is also an art form, most competitions are adjudicated by a minimum of three judges to ensure scoring is fair and consistent.
What Are the Different Categories at a Dance Competition?
Dance competitions have a variety of different categories for different components that must be taken into consideration when judging. Categories include:
Age range
Style of dance
Size of group
Level of dancers
1. Age Range
Most dance competitions have a few different age ranges so that 8 year olds don't compete against 15 year olds.
For example, the age ranges at Star Power are Petite (8 & Under), Junior (9-11), Teen (12-14), Senior (15-19), and Adult (20 & Up).
Names of age ranges vary, as does the range itself. Some Junior categories are 8-10 year olds, for example.
2. Style of Dance
Dance competitions allow dancers to compete in all styles of dance. The most commonly seen categories are Ballet, Tap, Jazz, Contemporary, Lyrical, Open, Acro, Modern, Hip Hop, Musical Theatre, Folkloric, Pointe, Production, Vocal and Character.
3. Size of Group
The size of the groups of dancers are broken down as follows: solo, duo/trio, small group, large group, line, and production. Competitions vary as to how many dancers make up the amount of dancers in the groups between small groups and production.
4. Level of Dancers
A newer feature of competitions that has developed in the past 15 years is levels.
The level of a dancer refers to their skill as a dancer or experience on the competition stage.
In the past in the US and Canada, competitions only had one level and everyone regardless of their technical level or experience at competitions competed against everyone else in their age division.
Now, competitions have added lower and midrange levels for less experienced dancers who still want to compete, but against dancers who train similarly.
You may see the beginner level named as "Novice" or "Primary", the mid level as "Intermediate", and the highest level as "Advanced" or "Pre-Professional".
In order to choose the correct level for their dancers, studios are asked to assess the skill level of the routine, the years the dancers have competed and/or the total hours the dancers take class weekly.
Levels allow more dancers to compete and walk away from an event feeling accomplished.
HOWEVER….
It is up to the studio owner, choreographer or dance teacher to place their dancers in the appropriate level.
This is obviously controversial in the industry due to less than honest placements by studios who may try and fudge their real level in order to win.
However most competition rules state that they reserve the right to change the level of a routine if the judges feel it is mis-leveled.
This is great when it is done correctly, but there are occasions when for example a dancer who trains minimally or are at their first competition is moved up, or when the judges decide not to enforce the rule on a group who everyone else knows competed in a higher section all year but moved down to increase their chances of winning.
How Are Dance Competitions Scored?
Three professional or experienced dancers, teachers or choreographers are hired as judges.
Most dance competitions are scored using a point system not unlike how schools grade out of 100.
The three judges are given 100 points each, and the total score out of 300 is taken to determine the adjudication score.
Out of 100 points, a judge can give a certain amount of points to the following categories:
Technique
Performance
Presentation
Choreography
Overall Impression.
This type of scoring is usually called "adjudication".
All dancers will receive an adjudication score, which is simply their numeric score on the point scale.
At the awards ceremony, adjudication awards are usually the first to be given out, since all participants receive some type of trophy for their routine's adjudicated score.
All About The Adjudication Score Sheet
Keep in mind that every competition is different and these categories may differ between events.
Each judge receives either a paper score sheet for each routine, or a computer program will be used showing a similar rubric.
A typical score sheet and overall point allocation might look like this:
| | |
| --- | --- |
| Technique | 40 |
| Performance | 30 |
| Choreography | 15 |
| Presentation | 10 |
| Overall Impression | 5 |
| Total | 100 |
As an example, let's say that routine #485 "Rock This Town" is competing at Shining Star Dance Competition, a hypothetical event.
Here is what the judges scored this routine:
| | | | | | |
| --- | --- | --- | --- | --- | --- |
| | | J1 | J2 | J3 | Total |
| Technique | 40 | 35.5 | 36 | 37.1 | |
| Performance | 30 | 27.3 | 27.8 | 28 | |
| Choreography | 15 | 14 | 14.5 | 14.3 | |
| Presentation | 10 | 10 | 10 | 10 | |
| Overall Impression | 5 | 5 | 5 | 4.8 | |
| Total | 100 | 91.8 | 93.3 | 94.2 | 279.3 |
J=Judge
Shining Star Dance Competition's award scale could look like this below.
In the tables I have shown what two different scales might look like dependent on the level the competitor is entered into Beginner or Experienced:
| | |
| --- | --- |
| Diamond | 290-300 |
| Platinum | 285-289.9 |
| High Gold | 269-284.9 |
| Gold | 253-268.9 |
| High Silver | 252.9 & Under |
Rising Star (Novice or Lower Level)
| | |
| --- | --- |
| Diamond | 294-300 |
| Platinum | 288-293.9 |
| High Gold | 273-287.9 |
| Gold | 258-272.9 |
| High Silver | 257.9 & Under |
Shining Star (Experienced or Upper Level)
At Shining Star Dance Competition, the dancer in "Rock This Town" is in the Junior Division, Rising Star Level in the Jazz Category. Her adjudication score of 279.3 falls into the High Gold placement.
Note that in the adjudication scale, a larger point spread is allowed for the highest award in the lower level.
That is essentially what levels do – allow for a lower score to receive a higher award because the judges take into consideration that they are at a lower level of training, but shouldn't be excluded from getting a certain award.
What Are The Overalls, and How Are They Different From Adjudication?
In addition to a dancer's adjudication score, most competitions also give overall awards, which get more specific in terms of where a dancer places within their age category and style of dance.
This is where you will hear the terms "first place" or "fifth place".
Some competitions only award overalls based on age and level, and eliminate the style of dance altogether.
This essentially means at some competitions a tap dancer and a ballet dancer are competing against each other for an overall position.
At the awards ceremony, you may hear, "In the Junior Division, Shining Star Level, your first place overall winner is #174 'Bring It On'!"
When a dancer wins an overall award, they receive an additional trophy, pin, or plaque depending on the competition.
Complicating matters, depending on the length of the event, there may be several awards ceremonies so that once an overall division is completed, the awards can be given out and those dancers who are done for the weekend can go home.
Plus, awards ceremonies at dance competitions are notoriously fast-paced, so pay attention and take notes if you are interested in seeing the rankings of the overalls!
What Month Do Dance Competitions Start?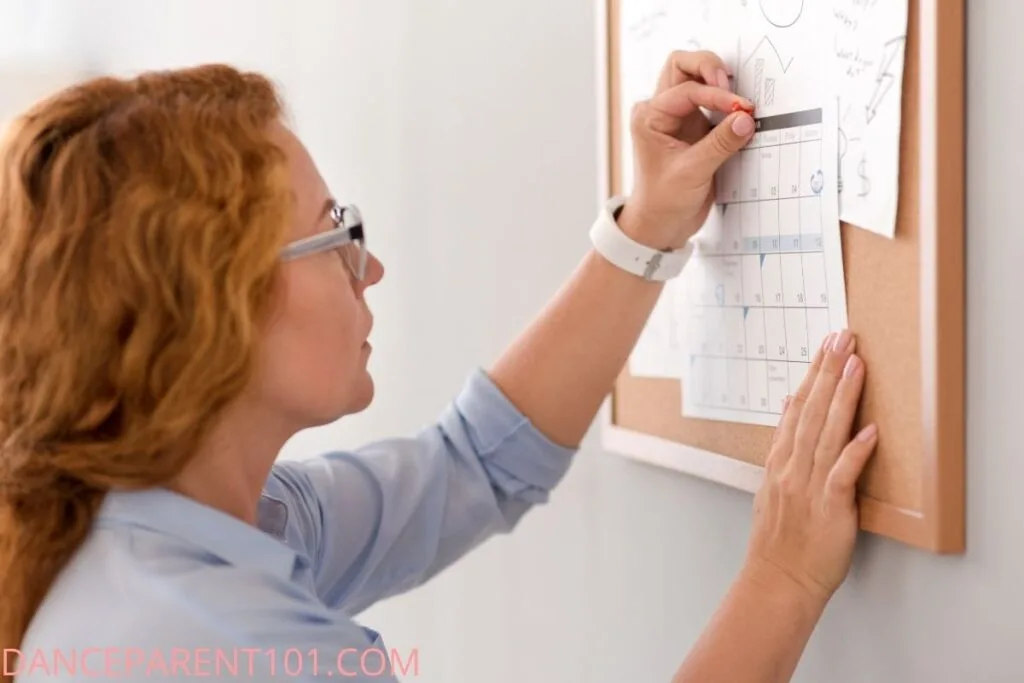 In the US, regional dance competition season, or "comp season" as we say in the biz, starts in January and ends in June.
Nationals begin in June and end in July or early August.
Usually, competitions take a break over the Easter weekend and Mother's Day weekend, but some events do still run.
What Is a National Dance Competition?
In the dance competition world, there are regional competitions and national competitions.
Regional competitions happen during competition season in cities across the US and Canada, usually including only dancers from in and around that particular city.
Nationals are held in the summer.
The idea behind nationals was originally to bring together the best of the best from each regional city to compete against dancers from other parts of the country.
Back when there were fewer dance competitions, to hold a national title from an event really meant something because the competitors were the top placing dancers from the regionals and there were fewer titles to be had!
Nowadays, many competitions hold several national events each summer so dancers tend to stay local to their area.
So, if an Orlando nationals is held, you will often see primarily Florida dancers attending the event.
Nationals usually last about a week, and are different to regionals because they will consist of additional events besides the competition, with convention classes, games, meet and greets and parties to add to the fun.
What Is The Title Category At a Dance Competition?
Most competitions hold a competition within the competition called "Title".
The title competition involves solo dancers competing in a separate category with a routine that will be judged against only the other entries in the title category.
The winner in each age division is awarded the "title" of Miss or Mr. "Name of Dance Competition" or something similar, like "Dance of the Year".
In order to compete for title, some competitions include an interview, audition class, or other criteria for the contestants.
Sometimes, the winner gets to assist in master classes during convention season if that competition holds conventions.
The title category is a fun, additional experience for dancers looking for that extra push! It is also an additional expense for parents.
What Are Special Awards At Dance Competitions?
Special awards, or "specials", are awards that typically have nothing to do with a dancer's score, but more to do with something unique that a judge wants to recognize about a particular routine.
Many times the most memorable dances aren't the ones with the best technique or the highest score, and judges always want to make sure dancers are highlighted for their strengths.
In my opinion, receiving a special award from a judge is even better than winning a placement, because that means the dancer really stood out and affected the judge in a positive way!
Some examples of special awards are for potential, performance excellence, onstage presence, and personality!
What Are the Age Limits For Most Dance Competitions?
Competitions will often allow dancers as young as 3 to participate, but most dance competitions don't have an upper age limit.
You will sometimes see senior citizens competing!
While there usually aren't strict age limits for participation, most competitions allow dancers over the age of 21 to compete for "adjudication only", meaning they won't be eligible for cash prizes or overalls.
Can You Enter a Dance Competition Without a Dance Studio?
Yes, you can enter a dance competition without a dance studio!
Some dance competitions allow dancers to enter as "independents", meaning they don't attend the event with a studio.
Often, independent dancers may be dancing at a higher level than their home studio and like to attend more competitions than their studio attends all together.
There are also dancers who enter as independents who belong to a studio that doesn't compete at all, but they are looking for more feedback and performance experience.
However, there are many dance competitions that don't allow independent entries.
The reasons behind this decision vary, but often it is because independent dancers tend to "competition-hop", attending every competition in their region and, if they are good, sweeping the overalls.
Another reason a competition may not accept independent entries is the belief that a dancer unaffiliated with a studio doesn't value consistent training, or working within a team setting.
How Much Does it Cost to Enter Dance Competitions?
Competitive dance is not a cheap hobby. For more information on how much some real dance parents pay for their children to do competitive dance read our articles:
The Real Costs Of Competitive Dance – A Parent's Run Down
How Much It Costs One Family for a Year of Competitive Dance
Do You Win Money at Dance Competitions?
Yes, at some competitions, you can win cash prizes!
The cash prizes are fewer these days than they used to be, and have been replaced with credit towards a future event with the competition, but some events do still offer cash prizes for the highest awards.
Are Dance Competitions Rigged?
Having judged for a number of dance competitions myself across the US and Canada, I can say with confidence that no competition that I've ever worked for is rigged.
With adjudication and dance competition-specific software technology being used nearly across the board nowadays, any sort of user error or deceptive practice in scoring would be flagged by the system as suspect!
Are Dance Competitions Fair?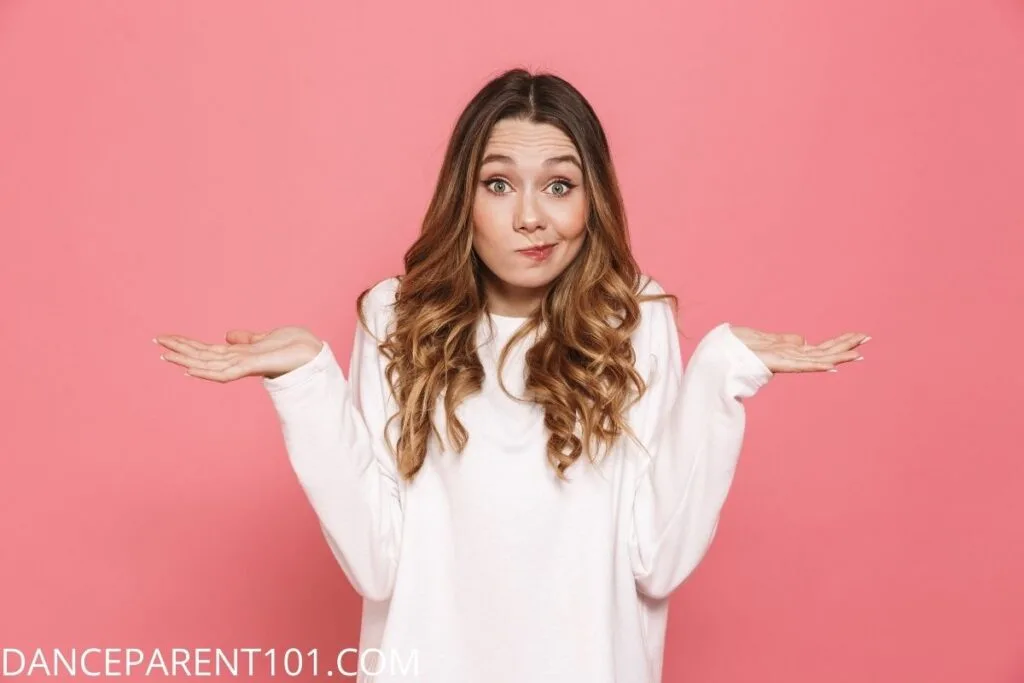 It's hard to say whether dance competitions are fair – unlike a sporting event or a compulsory routine in gymnastics or skating, where the participants are judged solely on the execution of a skill or whether someone caught a ball or not, dance competitions require another type of judgment – artistry.
Artistry is subjective, and dance falls into a gray area of being both a sport and an art.
The fairness of one dancer winning over another will always cause speculation.
Dancer A had better technique, hands down, but dancer B gave the performance of a lifetime with a soul-touching story.
Who wins?
One day it may be the technician the other it may be the performer.
What Are the Most Competitive Dance Competitions?
The most competitive dance competitions are the ones without levels.
When all dancers compete against each other, you truly have a real competition.
Level-free competitions are few and far between, with Celebrity Dance being the sole example in the US that I'm aware of.
Another option is a convention with an attached competition, like New York City Dance Alliance or JUMP.
Conventions like these offer a competition alongside a convention, and these events don't have levels.
Typically at a convention competition, you will find the highest caliber of dancers participating, which makes these events highly competitive.
---
Dance competitions can be an incredibly useful experience for dancers of all ages and skill levels.
Aside from the awards and accolades, dancers gain useful feedback from professional judges, the rush of performing in front of an audience, and the sportsmanship and camaraderie that comes with being around other dancers from different studios.
While they might be confusing at first, the more dance competitions you attend, the more understanding and appreciation you will gain for these unique events!
Further Reading
Check Out Our Google Web Story!