For many of us the only space large enough to fit a decent-sized dance or workout space is the garage. Now the great thing about a dance studio in your garage compared to a gym is that you only really need free space, you don't have a lot of heavy equipment that can't be moved to the side compared to a gym set up.
The biggest problem you will probably come across is getting your flooring right. Garages generally have rather dirty concrete floors so portable flooring might be a great investment if you still need the space to park a car. Some people may have a double garage and only need one space for a car and will be able to do something a bit more permanent. But either way, it is important to remember that garage flooring is not shock absorbent in general, and therefore whatever flooring you do choose, make sure you take this into consideration and budget for purchasing some type of shock-absorbent subflooring such as specially made foam mats.
In this article, I have specifically looked at ideas for dance studios in garages and sheds. If you need more inspiration or are not sure what space is best for you, make sure you check out these other articles loaded with creative ideas for dance studios and work out spaces all over your home!
HOME DANCE STUDIO: GARAGE
This garage has been turned permanently into a home gym and dance studio as they have added wooden floor boards to create permanent flooring. Because garages usually have concrete floors, a subflooring or foam should be placed in between the concrete and studio floor to help absorb shock when exercising, helping to decrease the chance of injury.
This is another example of a garage turned into a small dance studio. Marley or Tarket vinyl flooring such as what you would see in a professional studio has been laid ontop of the tiled garage floor and taped in place. Taping is fine, but as I wrote previously adding foam tiles or a special subfloor for dance flooring should be a priority when embarking on a project like this to lessen the occurance of injuries such as shin splints as the hard surface underneath is quite unforgiving and does not absorb shock which is not great for the joints and bones.
A great shot showing how one side of a double garage can be converted into a small dance studio. They have added a wall length mirror, LED strip lighting and a wall to partition the studio from the garage on the other side.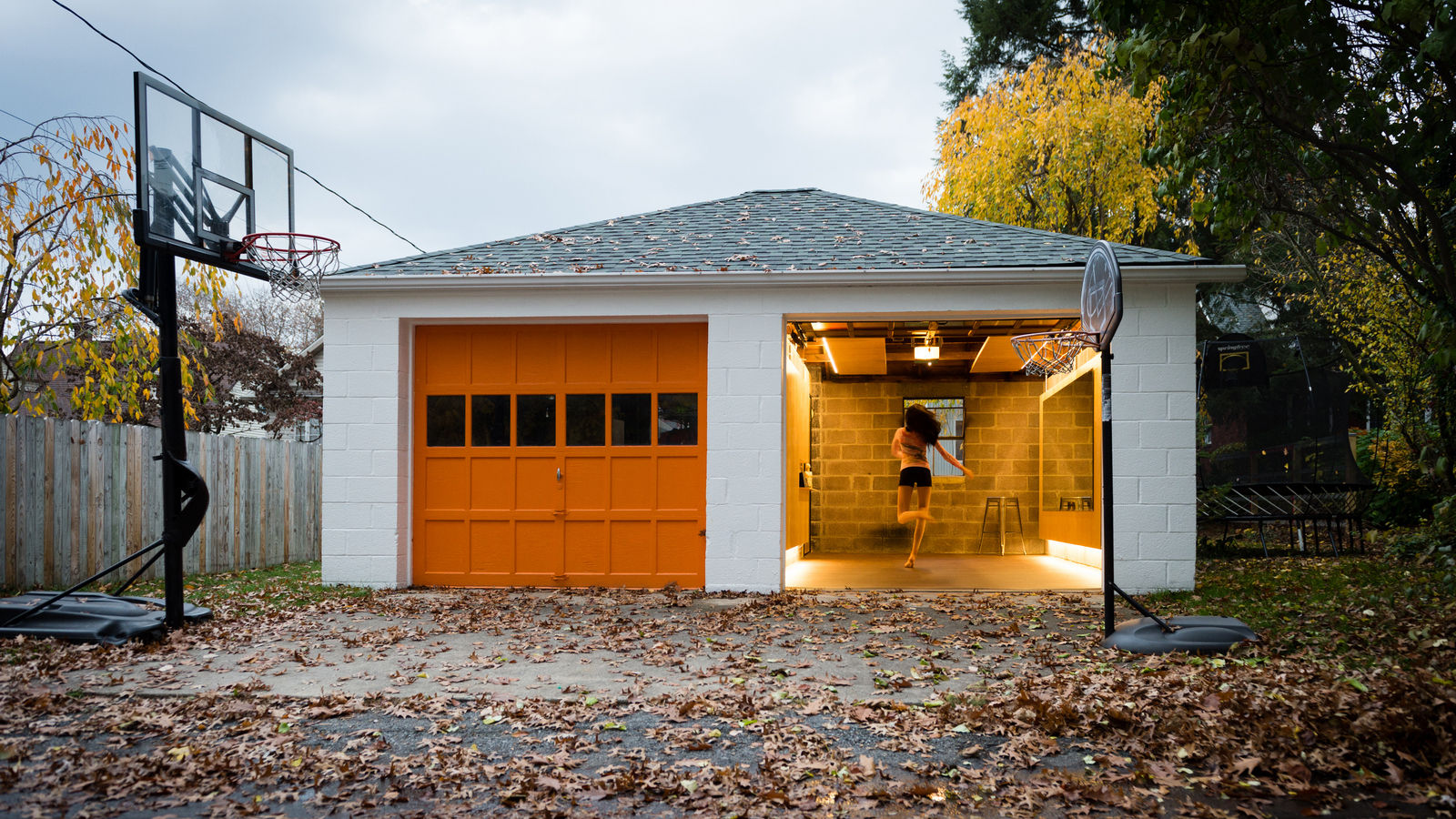 This garage reno image was actually placed on a YELP review for an electrician and so the whole job may not have been finished, but the use of the portable mirrors is a great idea as you may have storage on the otherside that you could still use, or if you were in a rental and could not attach anything to the wall portable mirrors might be for you!
This is a great little dance studio set up in a garage. Dance flooring has been installed, as has a stereo and speaker system and television. A variety of mirrors have been installed on the walls around the room, with the barre along one side as well as some storage baskets. A disco ball tops it off for fun! I am going to assume a pedestal fan and heater were probably also stashed somewhere close by for those hot summer days and cold winter nights!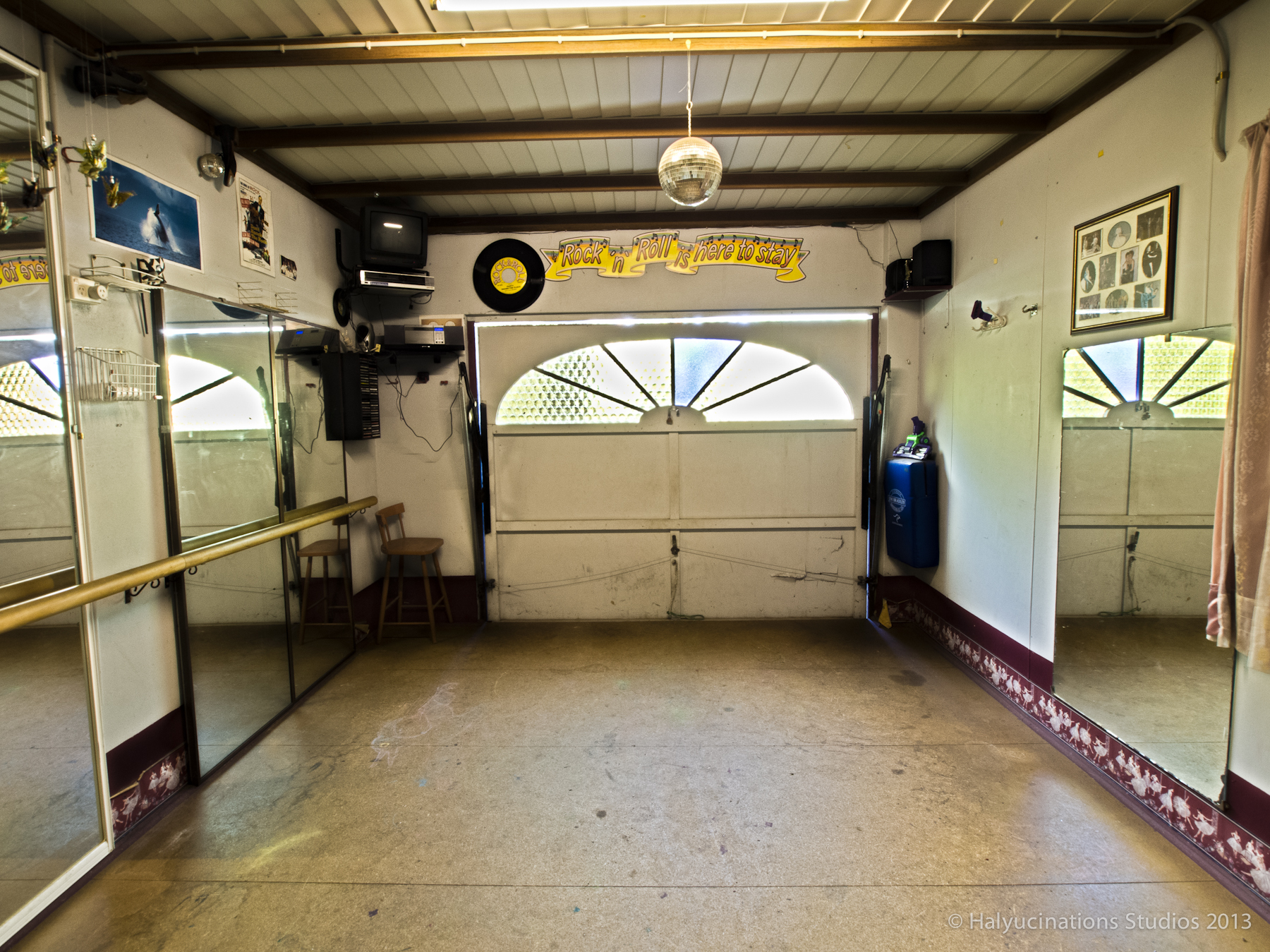 The following studio may not be a home studio, but it is in a garage and I thought might still give some inspiration to those needing ideas. What I like is that there is a portable barre across from the mirror so you can see yourself doing both sides of any exercise and so this kind of setup might work for you?
The following little studio has been set up in a shed which is just like a garage, but more used for storage of tools and anything else that usually doesn't fit in the house! They have set up a television so they can access their dance lessons online, have a portable barre, and have a great big dance floor with foam underlay for shock absorption!
https://www.instagram.com/p/B_JZPanhABM/
Ok so if you have been reading my comments you will know how I feel about concrete floors and dance…. but if you read the comment for this one, they did just create this quickly!
https://www.instagram.com/p/B-wLnw3JVjE/
This is a cute little studio that has been set up in the home garage. They have used dance flooring tiles to create a safe dance floor and have chosen a portable double barre. I love that they have personalised the space with photos and the lights around the mirror are a great touch!
https://www.instagram.com/p/B-ugsiKhcYD/
This garage has been totally transformed to create a dance space for the Indian style dance Maria enjoys!
https://www.instagram.com/p/B-M9UbLCdqz/
And for the following, simply clean out your garage, add dance flooring and you are set to go!
https://www.instagram.com/p/B0AgDdQlWtm/
And the following are some videos of dancers creating a dance space in their own garages which will hopefully provide even more inspiration for you!
Share this article on Pinterest Now!
Check Out our Google Web Story