Are you after a long-lasting lipstick that doesn't smudge to get your dancer through a long day of performances? Or perhaps you have a young dancer and want a super-easy way to get their lipstick on smoothly and easily? Well then you should be considering a lip stain or liquid lipstick rather than a traditional stick of lipstick
The best long-lasting lip stains and liquids to use on dancers are Maybelline Superstay Matte Ink, NYX Vegan High-Shine Long-Lasting Liquid Lipstick, Maybelline SuperStay 24, 2-Step Liquid Lipstick, Kat Von D Everlasting Liquid Lipstick, and Sephora Collection Cream Lip Stain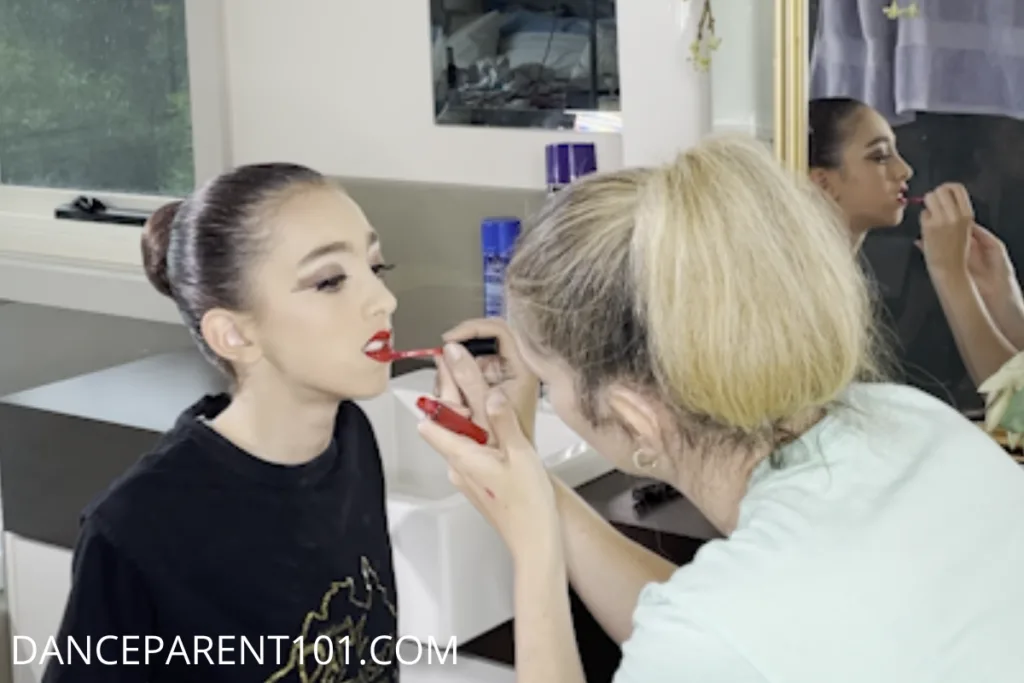 The first liquid lipstick I ever used on my daughters for dance came from a Makeup show bag my eldest had gotten full of samples.
From using that sample I was hooked and as I couldn't get another bottle of the stuff we had gotten on a whim, I needed to find out what the best liquid lipstick on the market was for dancers so I could restock. The following is my research!
Is Liquid Lipstick and Lip Stain the same thing?
Generally yes, liquid lipstick and lip stain are the same things, but many manufacturers have moved from calling their product a stain to purely liquid lipstick mainly for marketing purposes.
The word stain although a good description of the product seems to put some people off of buying the product so you are much more likely to see it called everlasting or long-lasting liquid lipstick for example.
In the instances where this is not the case, the product is more likely only a tint or a gloss.
These products look like a liquid lipstick and can sometimes be marketed as such, but when you put them on are less pigmented!
What is Liquid Lipstick or a Lip Stain?
A lip stain or liquid lipstick is a product that looks a lot like a tube of like lip gloss.
It is a liquid or gel-like substance and comes in a tube with a q-tip like applicator.
Personally, I like the stick applicators with a tear drop shape flat head so I can define the lips, but they also come as a roll-on or with applicator sticks with rounded heads.
Lip Stains & Liquids contain ingredients such as water, alcohol, natural plant oils or mineral oil, synthetic dyes, or natural colors like henna which assist in the product staining the lips for longer periods of time than conventional lipstick.
How is a Lip Stain or Liquid different to Lip Stick?
Lipstick is made from waxes and oils mixed with colors that are combined then molded into the common stick shape stick as we know it. We apply lipstick by wiping the creamy stick over our lips.
Whereas liquid lipstick or a lip stain is a liquid or gel that is contained in a tube and is applied with an applicator. The lip stain is comprised of liquid components that dry once applied to form the stain.
Because a stain dries quickly it is less likely to smudge and is harder to wipe off than conventional lipstick – which is a good thing for dancers!
Why should I use Liquid Lip Stick instead of a Tube Lip Stick on My Dancer?
1. Smooth Application
The number one top reason I like to use a lip stain on my daughter's lips instead of lipstick is because of how smoothly it goes on.
I find when putting on regular lipstick, you have to apply pressure for it to transfer easily and my dancer's lips move around especially when they were young and unfamiliar with putting on makeup.
As a lip stain is liquid, it glides on and I only use a light touch so it goes on quicker as well
2. No Lip Liner Required
I also like using lip stain as I do not have to use a pencil to outline their lips.
Instead after filling in their lips, I use the edge of the lip stain applicator tip to define the edges of their lips creating nice crisp lines and a defined shape.
I prefer this method to using a lip liner pencil, as again I find when defining their lips with a pencil, their lips move with the pressure of the pencil.
I also find that unless I spend a good amount of money on a pencil they are not creamy, meaning they can be dry and hard to apply as they do not move smoothly over the lips.
You can also do this the other way around and use the tip of the liquid lipstick to line their lips with the liquid lipstick first and then infill them. There is not one way that is right – the best way is the way that works for you!
3. Long Lasting After One Application
A lip stain goes on wet and it dries quickly on the lips.
Many lip stains dry so quickly because of the alcohol content in the product, which is evaporated shortly after application (a bit like hand sanitizer!)
Some lip stains are also absorbed into the outer layer of the skin on the lips which helps the color stay on longer.
4. Doesn't Transfer onto Costumes as Easily
Once dry, a lip stain can still look shiny, but it somehow creates a dry casing that does not easily rub off.
I'll admit there are many lipsticks that can do this now too, but this one is important, especially for dancers putting costumes on and off for a recital for example.
Knowing that your lip stain is less likely to transfer when pulling things as carefully as you can over your head is a plus!
5. Comes off with Makeup remover not when eating or wiping your mouth!
I generally find that Micellar water easily removes all my dancer's make up including lip stain, but I don't just squirt it onto a cotton pad and then rub it all over their face.
Instead, I drench the pad and then either rub from the outer corner of the mouth to the center and do the same on the other side first or do the top lip and the bottom lip individually. I will usually need another clean makeup removing pad with more micellar water to then wipe over the mouth fully.
This way I mop up most of the color without smearing it across their cheek.
I will also then put some sorbolene cream onto a pad and then wipe that over their lips to restore moisture as well as to clean any lasting makeup remaining. You can use moisturizer, coconut oil, or cold cream makeup remover to do this as well.
Sometimes I find their lips are a little pinker than usual after taking the stain off, but this is sometimes a combination of the stain and the rubbing to get it off and generally the redness is gone by the next day, especially after washing their faces or a shower.
The Pros and Cons to using a Lip Stain for Dance
| Pros to Using a Lipstain | Cons to Using a Lipstain |
| --- | --- |
| Vibrant Colors | Need to wait for it to dry |
| Smooth and easy glide application | When pulling the lipstain out of the tube, it can splatter – important to be aware of this and not be near a costume when doing so! |
| Can use the applicator tip to outline the lips | Can feel cold and wet – this is a texture some young dancers might not like! |
| Once dry it lasts all-day | If it gets onto a costume it can be hard to get out. |
| Once dry it shouldn't transfer onto costumes which is great for quick costume changes. | Because of it's staying power it can be hard to wipe off without leaving any residue – which is not great if you make a mistake or for taking makeup off a tired dancer at the end of the day. |
5 of the Best Lip Stains for Dancers – Recommended by Parents of Dancers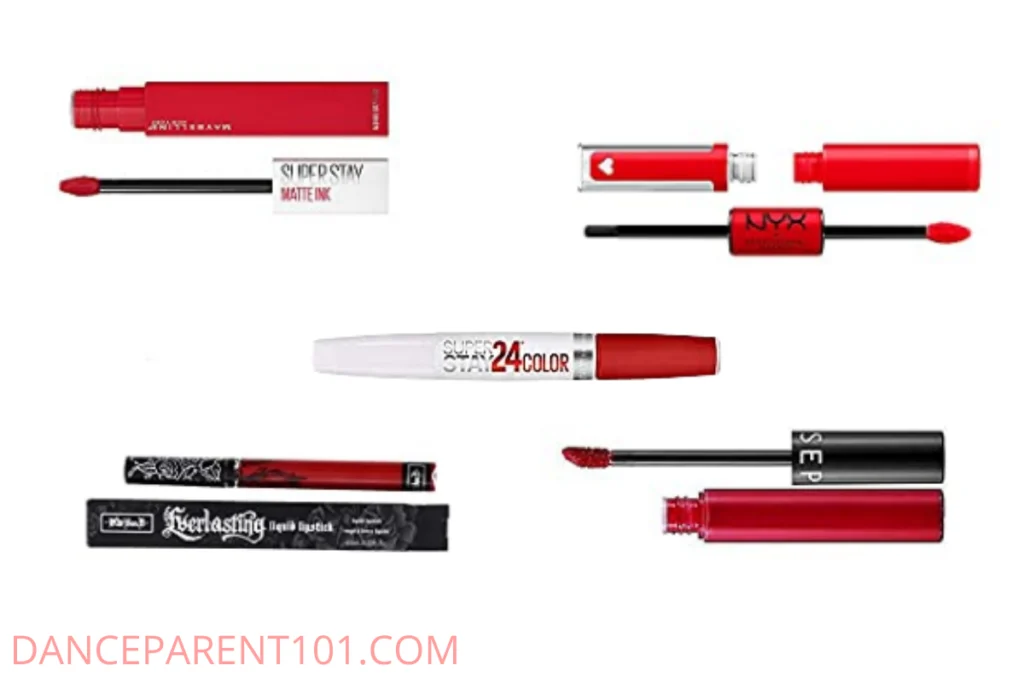 1. Maybelline Superstay Matte Ink
Maybelline New York SuperStay Matte Ink Liquid Lipstick is a favorite amongst most dance moms and is what we currently use.
It is really easy to apply, is not expensive and it works!
They have a few different reds to choose from, but honestly why go past the color specifically called Dancer!
This stuff glides on wet and then drys for a matte finish!
It is virtually smudge-proof once dry, doesn't bleed and you can use it with or without lip liner.
I have not had to reapply this stuff yet… however that does mean at the end of the day it does take a little bit of extra elbowgrease to wipe off! I like to use Micellar Cleansing Water for waterproof make up by Garnier best, but don't expect it to come off with the first wipe! There is a reason it has staying power!
I sometimes like to use the precision tip for lining the lips instead of a pencil lip liner!
---
2. NYX Vegan High-Shine Long-Lasting Liquid Lipstick
NYX PROFESSIONAL MAKEUP Shine Loud Vegan High-Shine Long-Lasting Liquid Lipstick is recommended in Rebel in Red.
It has a 2 step application using a high-pigment base coat and an ultra-reflective nonsticky top coat. So you can choose to have a matter or a gloss look!
When asked if their dancers hair ever got caught in this stuff, many dance moms were quick to report no – the topcoat looks glossy but is definitely not sticky to touch, so their dancer's hair doesn't usually get stuck on their lips while dancing!
Another win for this product is the fact that it is vegan and the company is acknowledged by PETA as a cruelty-free brand!
---
3. Mary Jo K by Kylie Cosmetics
Kylie Jenners Cosmetics are some that are beginning to make some traction within the dance world.
Apart from the fact that they are a good product, a lot of dance moms love the fact that these kits come with a matching lip liner. If you read our article about Dance Mom's Top tips you will learn why!
So although this might be a little more expensive at first glance you are actually getting two products, which makes it more wallet-friendly.
---
4. Kat Von D Everlasting Liquid Lipstick
Kat Von D was launched to fame on the show LA Ink as a tattooist.
She was the former head of Kat Von D Beauty which has since been renamed KVD Vegan Beauty so beware if this product name changes or the way it is made also changes.
But many dance parents have been using this product for years saying that it has never let their dancer down.
This liquid lipstick is marketed as being everlasting and the color I have been told is best for dance is called 'Outlaw'.
---
5. Sephora Collection
SEPHORA COLLECTION Cream Lip Stain 01 Always Red is another product mentioned several times by dance parents when asked which product they prefer using on their dancer.
This transforms from a creamy texture into a stain that doesn't dry out or burn the lips like some other products (not on this list) can tend to do!
It is a little pricer than the Maybelline products but the Sephora brand is well known for its quality products and maybe the preference for some parents.
---
Make Up Setting Tip
Although lip stains have staying power some dance parents also suggested adding a setting spray or powder to your dancer's makeup routine.
In particular, they found setting spray by E.l.f. was not only budget-friendly but did the job like it says it would!
For some tips on how to use setting sprays and powders read our article about tips from Dance Moms on how to do lipstick.
BEWARE!! Liquid Liptick should not Burn or Hurt when applied…
I have heard stories of some liquid lipsticks and lip stains burning and drying out the lips of young dancers.
If you find a product that does this to you or your child, just know that there are plenty of other products out there for you to try and choose that do not produce this unwanted effect.
The products in this list work just as well, if not better than products that cause a burning sensation.
You will also find that the products listed come in so many colors that you will be able to find a color match if, for example, your school or competition team requires you to wear a certain brand that causes your child's skin to respond in this way!
Makeup shouldn't hurt, especially young sensitive skin!
Other Articles You Might Like to Read