Dance teachers and dancers are always looking for new music to use in jazz class, both at home and at the dance studio! Sometimes we just need to shake things up a bit and find music that will give our dancers some new inspiration, new rhythms, and new ideas!
Some of the best songs for kids' jazz dance classes include old favorites, unexpected artists, and of course, clean lyrics and themes!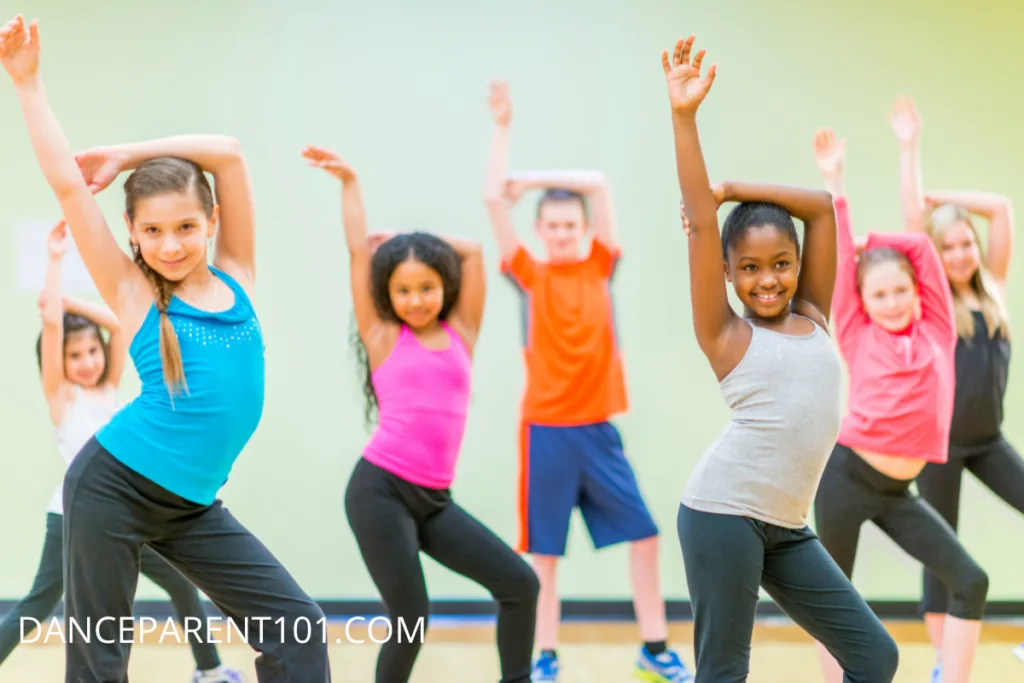 This list includes just a few of my favorite songs to use for kids' jazz classes – feel free to go down the rabbit hole of Spotify by following some of these artists and seeking out similar sounds if you like what you hear!
Best Jazz Songs For Warm Ups
I love these songs for jazz warm-ups because they have positive messages, driving tempos, and are just plain fun!
"Waka Waka" by Shakira
"Loudspeaker" by MUNA
"September" by Justin Timberlake, Anna Kendrick, and Earth, Wind & Fire
You can use these songs at home when practicing as well. For more info on how to help your child improve in jazz dance, check out our article here!
---
Best Jazz Songs For Across-the-Floor Progressions
The most important thing to remember when selecting music for children's across-the-floor jazz progressions is to find songs with solid tempos. A solid tempo gives young dancers something consistent to listen for when starting progressions.
"Walking on Broken Glass" by Annie Lennox
"Buster Voodoo" by Rodrigo Y Gabriela
"Send Me On My Way" by Rusted Root
"Get Up Offa That Thing" by James Brown
"Jazz Machine" by Black Machine
---
Best Jazz Songs For Turn Combinations
Similarly to songs for across-the-floor, you want to select music with a consistent beat for turn combinations. Being able to hear the timing of when you plié and spot your turns is important to developing good internal timing.
"I Wanna Dance With Somebody" by Whitney Houston
"Shake Your Body (Down To The Ground)" by The Jacksons
---
Best Jazz Songs For Leaps
Music for leaps must be exciting, brisk, and bouncy! These songs always get my students on their feet and ready to soar!
"Baby I'm A Star" by Prince
"Get On Your Feet" by Gloria Estefan
"Kiss The Stars" by Pixie Lott
"Jump For My Love" by The Pointer Sisters
"Freeway of Love" by Aretha Franklin
---
Best Jazz Songs For Combos
The word "best" is hard to use when it comes to music for combinations or routines, as everyone has their own personal style of jazz dance. But, these songs are favorites of mine for kids because they are all so different in musical style and work well for teaching different styles and feels of jazz dance.
"Rich Man's Frug" by The Fosse Ensemble
"Barefootin'" by Wilson Pickett
"On Broadway" by The SMASH Cast
"Brand New Day" by The Wiz LIVE! Cast
---
Spotify Play List
Check out these songs on my Spotify! I hope they inspire you to find more fun jazz dance music of your own!
Other Articles You May Be Interested In Reading!