By Samantha Bellerose, B.Ed, Dip.Dance (Performing Arts)
Pom Dance is dancing while using Pom Poms and is a style mainly performed by high school and college students at halftime during basketball season and other school athletic events, but pom dancers may travel to compete as well. Pom dance is sometimes also known as a school or college dance squad or dance team.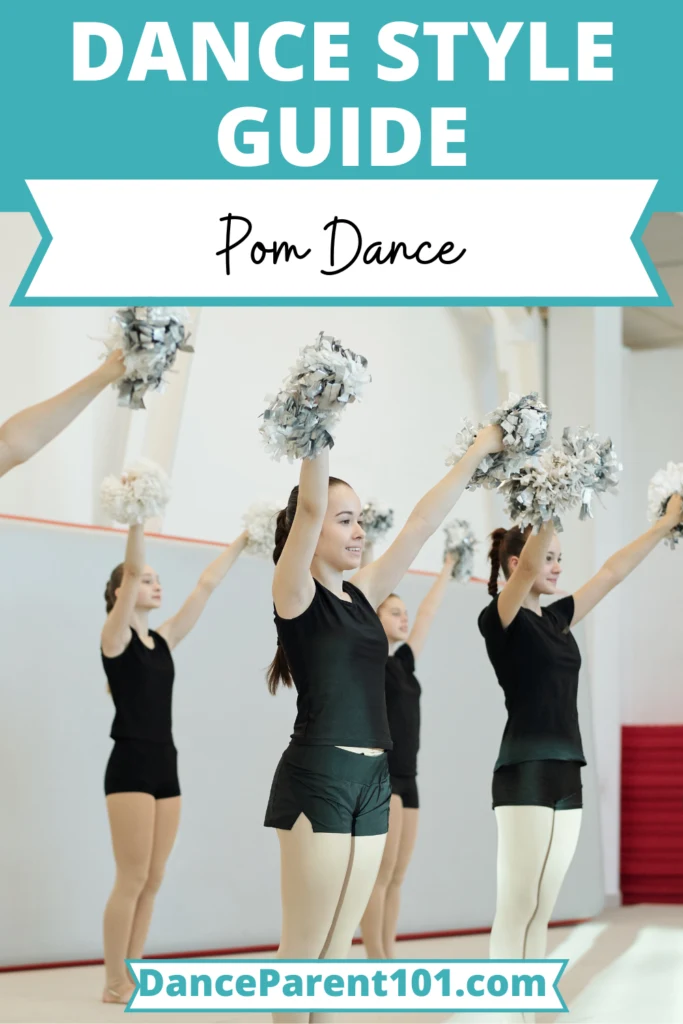 This style of dance can sometimes be confused with Cheerleading. The difference between the two is that Pom Dance focuses more on technique and cheerleading focuses more on stunting and tumbling. In fact a good example of this confusion are the NBA half time dancers also known as Cheerleaders as their purpose other than to entertain the crowd is to cheer on their team. They are not known for their tricks and stunts rather for their poms style of dance which is focused on the choreography, patterns, technique and use of pom poms.
Pom Poms come in many colors and styles. The introduction of poms to a dance routine helps to accentuate movement and draw attention while adding a splash of color and pop which often coordinates with the school colors or seasonal themes.
Pom dance incorporates other styles of dance such as jazz, hip hop and sometimes lyrical or modern and is highly technical, therefore pom dancers usually have extensive training in dance technique through a dance studio. Pom dance teams work on choreography for weeks and will have opportunities to compete.
The pom dancer will use very sharp, precise movements with their arms and the rhythms are usually fast. The pom dance will also include high-level jumps, kicks, and turns as well as a synchronized kick line.
To be a part of a pom squad a dancer must be prepared to try out and audition. Some dance studios will offer preparatory dance teams and dancers will gain an understanding through the early experience of what it is to be a pom dancer. Pom dancers have opportunities to perform thru high school and college as well as opportunities to become pom dance instructors.
This page is just one of hundreds of definitions of the many styles and genres of dance. This library is being continually added to by the writers and contributors of Dance Parent 101!