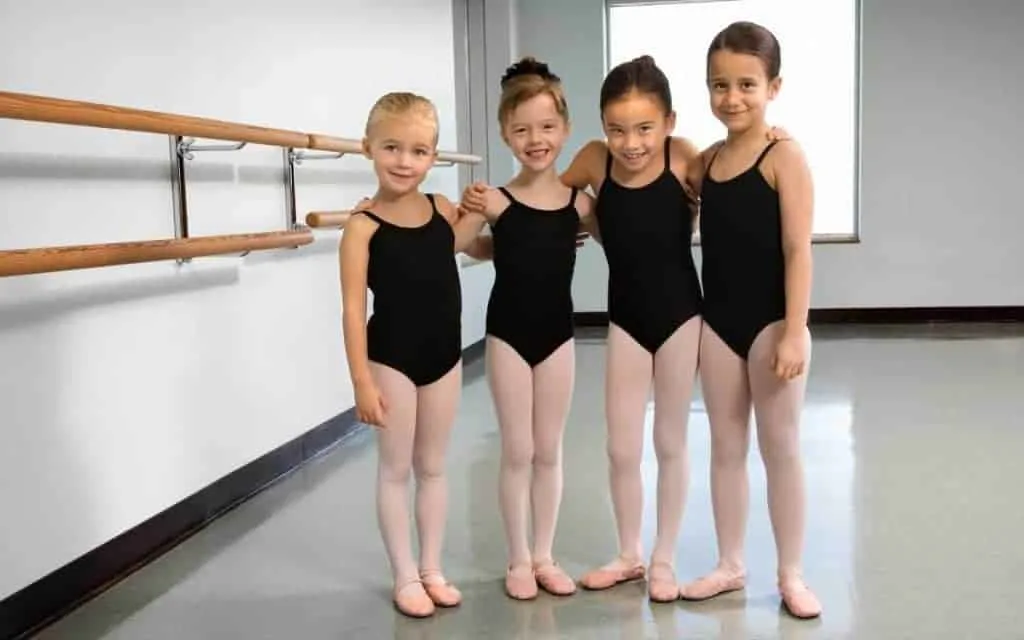 Many dance schools offer a smorgasbord of classes and lessons for young kids to attend which can leave parents confused as to just how many dance classes they should be enrolling their child into?
At the age of five, attending one or two dance lessons or 1 to 2 hours of classes per week is ideal. The research states that in general there are no amount of dance classes a five-year-old should be doing.
This research is taken from the recommendations of starting ages by top vocational dance schools, ballet companies and examining bodies in the USA, Australia, the UK and Canada which you can read more about below. You can also read more about how many dance or ballet classes an age and class guide here or how many years of dance or ballet does it take to be a professional.
Should my 5 year old take class twice a week?
This is the year most children begin school and most parents underestimate how tired and emotionally draining those long days can be on their child, even if they have been in daycare previously. Therefore we recommend a second class in a different style is fine as long as your child enjoys it and can physically and emotionally handle a second class on top of any other commitments they have. At this age, they are generally exploring what their bodies can do and what they like to do with their bodies. Their purpose in learning to dance is to have fun and for some little girls especially it is what they have grown up believing little girls should be doing and become – a ballerina or a princess, or a ballerina princess.
What Age should a Child Be Starting Dance Classes or Lessons?
Most professionals will tell you that the starting age of a dancer who ends up having a rewarding dance career can be anywhere between the ages of 3 to 10 and some with alot of work, discipline and passion after the age of 10 are still able to make a career out of dance – the perfect example being Misty Copeland the first African American Principal Artist with the American Ballet Theatre who started ballet at the age of 13. So that means if your child is 5 they don't have to be doing dance lessons at all, just yet!
Which Style or Type of Class should my child begin with?
"The type of dance your child should begin learning is ballet. If your child finds ballet boring or too disciplined then starting a class in jazz, hip hop or tap is also fine, but if dance becomes more than a hobby they will need to work on their strength and flexibility as well as develop pleasing aesthetic lines, all of which a good foundation in ballet will provide." From Dance Parent 101 – What Type of Dance Should My Child Learn?
Many schools offer 1-hour combination classes for 5-year-olds. This means your child gets to do half a class of two styles or a combination of three such as Ballet, Jazz and Tap. As ballet is an important foundation just make sure the ballet portion is well taught, not rushed through or rarely taught in favor of the other styles.
How Many Lessons a Five Year Old Should be taking from the experts, dance schools & parenting experts?
To help you work out what is best for your child here are some guidelines or what is offered from some of the most respected dance examination boards, companies and vocational schools around the world.
What the Dance Experts Recommend!
---
American Ballet Theatre – JKO School Children's Division
The ABT JKO Children's Division offers one-hour ballet lessons a week for children ages 5-7. They have a rule that states that children enrolled in the Children's Division are not permitted to seek outside ballet training or lessons.
---
The Joffrey Ballet
The Joffrey Ballet offers one-hour ballet lesson a week for five-year-olds called pre-ballet 1.
---
The Australian Ballet School
The Australian Ballet School offer one ballet lesson a week for five to six-year-olds.
---
Canada's National Ballet School
Canada's National Ballet School does not offer classes for five years olds. Students are accepted through auditions from the age of 6 for afterschool and weekend classes.
---
Royal Academy of Ballet
The RAD provides a ballet curriculum for children from the age of 2.5 and up. At the age of 5 students can complete a pre-primary class-award, presenting examination type work with their teacher in front of an examiner. The RAD does not specify how many lessons per week a child five and under should be taking.
They state in their exam specifications documents that for the Primary exam at which a candidate is eligible at the age of 6, at least 40 hours of training for the exam should have been completed. This increases with each level. To prepare for all vocational graded exams the RAD recommends at least two syllabus classes be taken every week.
---
Cecchetti
The Cecchetti syllabus provides ballet examinations for children from the age of 5. They recommend that all students preparing for examinations take a minimum of two ballet classes every week.
---
Vaganova
The Vaganova method was originally designed to take eight years to complete beginning at the age of 10. The Vaganova method is taught all over the world, but thousands of students audition for 70 places each year at the Vaganova Academy in Russia and many are often chosen more on the potential of their body shape and physical facility for ballet rather than how much ballet training they have had previously.
---
Alberta Ballet School
The Alberta Ballet School offers a 45min ballet lesson for 3-5-year-olds every week. When your child turns 6 there is the opportunity to join the intensive training classes which include two ballet lessons a week. As your child improves a modern dance class is added to this.
---
IN SUMMARY…
From this research, it seems that the vocational ballet schools who provide full-time training for ballet students to possibly enter their companies value quality over quantity for their junior students. It seems clear that one ballet class a week for a five-year-old is the standard.
What Competitive Dance Schools Recommend!
It really comes down to the choice and preference of the parent and child, as we have already established one class or even none at this age is sufficient. Most of the schools listed here only accept students into their competition squads or companies by audition and require parents and students to sign commitment contracts for participating in a certain amount of hours and competitions per week and year. The following is information about the types of lessons available by some competition schools for their five-year-old students. (Please note the following information can be found on the websites of these schools, if it is written here, it was written somewhere on there!)
---
Nashfield Dance Centre
The Nashfield Dance Centre offers a one-hour combination ballet and tap lessons for 4-5-year-olds. Competition students are selected by audition from the age of 6.
---
For Dancers Only – New Jersey
For Dancers Only offers a variety of lessons and classes for five-year-olds. Combination ballet/tap classes, hip hop, flip, and Acro are all available for five-year-old students. They also provide a pre-competitive program that allows students to begin competing from the age of 5.
---
Trudance-California
Trudance in California offers a variety of lessons and classes for five-year-olds. Combination ballet/tap, hip hop, ballet only and competition classes.
---
The Dance Company – Melbourne, Australia
The Dance Company offers a wide variety of lessons. On top of ballet and tap lessons, they also provide lessons such as musical theatre and stretch and strengthening classes for five-year-olds. Students for their elite program are selected through audition only.
---
The Dance Shak – Essex, United Kingdom
The Dance Shak offers a variety of styles of dance for 5-year-olds during the week. They leave Saturday lessons solely for preparing competition work.
---
Danceology – Toronto, Canada
Danceology offers recreation and competitive dance training. They offer a recreational 1-hour combination class for 3-5-year-olds. They also offer a pre-comp program by audition only in which a student must attend four classes a week one of which must be a ballet or technique class.
---
IN SUMMARY…
It is pretty clear that if you are wanting your child to compete from the age of five, then your dance studio will require your child to attend more than two dance lessons a week for them to develop not only their technique and skills to dance, but also their ability to learn, practice and memorize competition specific work and develop the confidence to perform on stage. This although not wrong, is just in clear contradiction with our answer and recommendation at the beginning of the article.
What Do The Parenting Experts Recommend?
Following is what the parenting experts are telling us about enrolling our kids in afterschool activities such as dance class:
Most families have increased the speed of their lives and the number of their activities gradually–even unconsciously–over time. They realize that there are costs to a consistently fast-paced, hectic schedule, but they've adjusted. And looking around, there always seems to be another family that does everything you do, and more, managing to squeeze in skiing, or Space Camp, or French horn lessons on top of everything else. How do they do it? They do it by never asking 'Why?' Why do our kids need to be busy all of the time? Why does our son, age twelve, need to explore the possibility of space travel? Why do we feel we must offer everything? Why must it all happen now? Why does tomorrow always seem a bit late? Why would we rather squeeze more things into our schedules than to see what happens over time? What happens when we stop, when we have free time?"

― KIM JOHN PAYNE, SIMPLICITY PARENTING: USING THE EXTRAORDINARY POWER OF LESS TO RAISE CALMER, HAPPIER, AND MORE SECURE KIDS
Children's psychologist Alfie Kohn would argue that
'Few parents have the courage and independence to care more for their children's happiness than for their success.'
― ALFIE KOHN, UNCONDITIONAL PARENTING: MOVING FROM REWARDS AND PUNISHMENTS TO LOVE AND REASON
And finally a quote from an article by the American Academy of Pediatrics For many families:
there are risks in the current focus only on achievement, after-school enrichment programs, increased homework, concerns about test performance, and college acceptance. The stressful effects of this approach often result in the later development of anxiety and depression and a lack of creativity. Parental guilt has led to competition over who can schedule more "enrichment opportunities" for their children. As a result, there is little time left in the day for children's free play, for parental reading to children, or for family meal times

―AAP, THE POWER OF PLAY; A PEDIATRIC ROLE IN ENHANCING DEVELOPMENT IN YOUNG CHILDREN
How Many Dance Lessons Will You Enrol Your Child In?
So now it is time to decide what commitment you yourself are willing to put in. What dance parent journey do you want to go on and what are your hopes for your child? Be mindful and conscious of the choice you are going to make and don't base it on what other people are doing, but what is best for you, your child and your family. If you need help in looking for a dance school that suits your needs then head over to our article about how to choose the best dance school for you and your child.
No Lessons.
You might decide to start your child in lessons when they turn six to eight because you want to give your child a slower childhood or give them time to adjust to the business of starting school and this is absolutely fine.
One Lesson.
If this is just a hobby or even if you believe your child may have a chance at a professional career but you don't want to push them at this stage then one lesson a week is probably enough at the age of five. If you or they are wanting to learn multiple dance styles try finding a school that offers a combination class so that your child still only has to attend one lesson.
Two Lessons.
Remember, if you are wanting your child to work towards the goal of completing exams, then you will be looking at a minimum of two lessons a week. But even with one lesson a week there will always be the goal of preparing for your schools mid-season or end of season recital.
Three or More Lessons.
Alternatively, if you have the time and financial capacity and your child lives to dance and would do anything to get to their dance lesson, enroll them in as many lessons as you both want. Don't be apologetic to anyone about taking your 5yr old four times a week to a dance studio if both you and your child genuinely love it, it brings you closer together and it works for both of you! (Just so you know my 5-year-old is doing four 30min lessons a week in four different styles!)
A FINAL WORD
More dance lessons mean more travel time and more money. Remember that in the end it is your choice as the adult to spend your time and money on these activities and at the age of five your child will not understand the 'sacrifices' or commitment you have made to their dancing to the degree that you might like them too! Your child will at times be tired or not want to go to a dance lesson, but you always need to remember – they are only five and the child. You are the adult, the person responsible for choosing to give your child dance lessons and therefore, don't blame them when they act like, well like a child.
Ultimately if at any time your child is having a hard time adjusting to the demands of school and after school/weekend activities or just 'enjoys' dancing for fun, creativity and expression then use your intuition to enroll them in the amount of lessons that you know they can easily handle at this age which may be none or just one – every child is different, and every child and parent is looking to get something different out of their dance experience.

RELATED QUESTIONS
How Much Do Children's Dance Lessons Typically Cost?
Children's dance lessons will typically cost about $10 per lesson. Many schools ask for monthly payments which could vary between $32 to $48 per month depending on the class size, location, and experience of your teacher. Check out our article How much do dance classes cost. We Compare 50 Schools across America!
How Long Are Dance Classes?
Dance lessons for 5-year-olds will typically be around 30 minutes to 1 hour in length depending on whether they are in one style or a combination lesson.