By Lesley Mealor / Edited by Samantha Bellerose, B.Ed, Dip.Dance (Performing Arts)
Tap dancing in movies has been featured since the golden age of film, and in recent years, even more incredible dancing has been captured for audiences to enjoy. It can sometimes be difficult to find out if a movie has any tap dancing in it, but we've compiled a list of the ten best movies that are either completely about tap dancing, or heavily feature tap!
The best movies and films that feature tap dance can be found to rent, buy or stream from many sources! With titles for all ages, these tap dance movies are a joy to watch.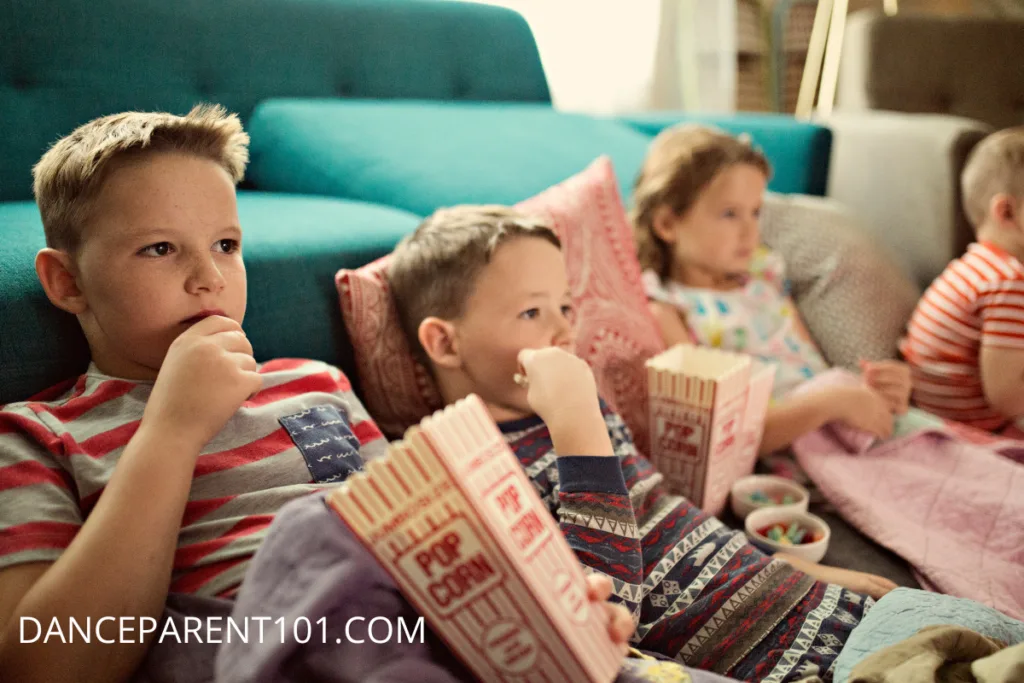 You might think you know all the films that feature tap dance, but there may be a few that surprise you. Check them out and enjoy a night at the movies!
Read about the best books about Tap Dance Here!
---
1. Happy Feet
Happy Feet, rated PG and choreographed by Savion Glover, is a delightful animated film for all ages. Glover also stepped in for the main character, Mumble the Penguin, as his dance double, whose dancing was captured by computer imaging. You can find Happy Feet as well as Happy Feet 2 on Netflix in the US.
For Ages: 5 and up
---
2. Billy Elliot
While Billy Elliot features mostly ballet, it's a can't-miss movie for tap fans. Young Billy grows up in a British mining town, with all the expectations and assumptions about what boys in the mid-80s should do. The tap scene shows the emotional release that tap dancing can provide. Watch Billy Elliot on Hulu and HBO.
For ages: 13 and up (This movie is rated R for language, please use your best judgement when viewing with children)
---
3. Singin' In The Rain
Gene Kelly, Donald O'Connor and Debbie Reynolds star in Singin' In the Rain, a classic movie musical for all ages. The dancing trio play performers who are navigating the 1920s Hollywood transition between silent films and "talkies". You can watch Singin' in the Rain on HBO Max, Youtube, Amazon Prime and Apple TV.
For Ages: 8 and up
---
4. Swing Time
Tap dancing was featured heavily in movie musicals from the 1930s and 40s, and there is no better example than Swing Time from 1936, which features Fred Astaire and Ginger Rogers. The comedic dancing duo showcases their incredible partnering skills in a story about mismatched lovers, gambling and the search for happily ever after. Swing Time is available on Youtube, Apple TV, and Amazon Prime.
For ages: 10 and up
---
5. Tap
Tap is a film from the late 1980s starring Gregory Hines as a tap dancer turned criminal. Tap also includes a challenge sequence that's not to be missed, with cameos from old time hoofers like Bunny Briggs, Harold Nicholas, and Jimmy Slyde, among others. Rent Tap from Youtube, Amazon Prime, or Apple TV.
For Ages: 13 and up
---
6. Thoroughly Modern Millie
Thoroughly Modern Millie is a classic movie that features a tap dancing Julie Andrews and Mary Tyler Moore! Andrews plays a scrappy young woman determined to find a wealthy husband in 1920's New York City. Both Andrews and Moore show off their hoofing chops in the elevator tap dancing scene. Thoroughly Modern Millie is a tough one to find online, but the DVD can be purchased on Amazon.
For ages: 8 and up
---
7. 42nd Street
A list of tap dancing movies would be nothing without 42nd Street, the classic 1933 film starring tap dance stars Ruby Keeler and Ginger Rogers, along with over 200 chorus girls. With choreography by Busby Berkeley, this film centers on protagonist Peggy Sawyer as she auditions for a musical in Depression-era New York City. "Come and meet those dancing feet" on HBO Max, Google Play, and Itunes.
For ages: 12 and up
---
8. Stepping Out
Starring the great Liza Minnelli, Stepping Out is a little known movie about a group of misfit tap dancers preparing to compete in a talent show. A former aspiring Broadway dancer, Minnelli's character teaches tap out of a church basement while she grasps at the end of a frustrating romantic relationship. Find Stepping Out on Amazon Prime, Itunes, Google Play and Youtube.
For ages: 10 and up
---
9. Born To Dance
Arguably the most talented female tap dancer of her time, Eleanor Powell shines in Born To Dance, a 1936 movie musical with music by Cole Porter. Dubbed the "Queen O' Taps", Powell takes on her first leading role alongside Jimmy Stewart of It's a Wonderful Life fame. Born To Dance can be rented or purchased on Youtube.
For ages: 8 and up
---
10. Stormy Weather
The death defying feats and fast-moving taps of The Nicholas Brothers grace the silver screen in 1943's Stormy Weather, a movie that was one of two that year to feature a primarily African-American cast. Appearing alongside The Nicholas Brothers were such famous black performers as Lena Horne, Bill "Bojangles" Robinson, Cab Calloway, and Katherine Dunham. This piece of tap dance history can be found in full on Youtube, as well as Amazon Prime, Itunes and Google Play.
For ages: 10 and up
---
11. White Nights
---
12. The Little Colonel
---
13. Happy Feet 2
While less tap-centric than the original, Happy Feet 2 still delivers toe tapping fun! Watch as Mumble the tap dancing penguin helps his less choreographically inclined son, Erik, find his place in the world. Tap dance star Savion Glover also created the steps for the sequel, making for a great double feature for all ages!
For ages: 5 and up
Other articles you might like
Check us out on Pinterest