The Best Gifts To Give A Boy Dancer
---
Buying a gift for a boy can be hard, even harder if it is for a boy who dances because so many of the options out there seem to be covered in pointe shoes or tutus. On this page, I have collated a few select gifts that any boy dancer would appreciate receiving.
I believe as an educator and mother the best present to get any dancer is a book about dance. Books are windows to the world and a great outlet for the creative mind. I love that you can personalize a book with a message inside the cover to preserve the date and occasion for the gift and choosing a great book will mean your boy dancer will most probably keep it in their collection forever.
The list includes my top pick for a book as well as a few carefully selected ideas specific to boys that will hopefully get your gift-giving juices flowing.
Gifts for a Young Boy Dancer
Picture Book
This is the perfect book for a young boy dancer. Lots of big colorful illustrations with a few sentences on each page, that take you on the fascinating journey of the life of this infamous male ballet dancer. The text is just long enough to keep any young dancer engaged. What is great is that it also comes with an information page at the end for older readers with photos and a short biography about Rudolf Nureyev. Buy it from Amazon here.
HIGHLIGHTS
Beautiful Colorful Illustrations
Tells the story of a famous male dancer
Is part of a series about innovators in our world
Ballet Boys T-Shirt
This T-shirt is from Etsy and I was so excited when I found this as I haven't seen anything anywhere else quite like it. Perfect for any little dancer! Buy it from Etsy here.
HIGHLIGHTS
In small kid/toddler sizes 2-5
Personally designed by a seller on Etsy.
Displays 5 boys in the major ballet positions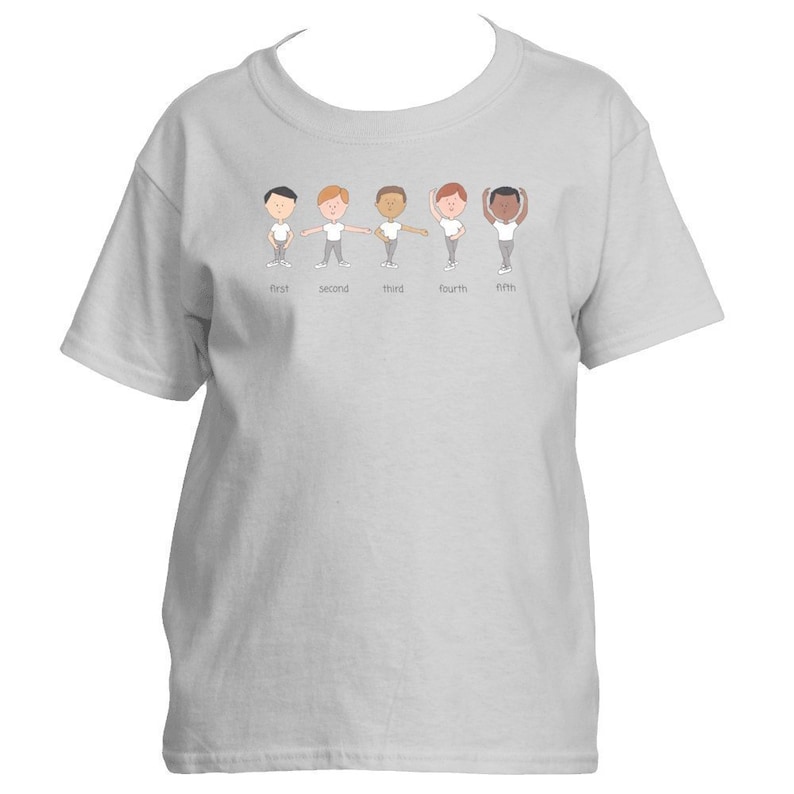 Boys Ballet Dolls
These boy dancer dolls are absolutely gorgeous and if I had a little boy who danced instead of playing soccer this is definitely what they would be getting for Christmas! All my kids love hugging something as they go off to sleep so why not get your boy dancer one of these adorable hand made dance dolls! They are lovingly made by Grandma Marie in the USA but unfortunately she only ships within the US, although you might be able to contact her to work something out if you live outside of the US. Buy it from Etsy here.
HIGHLIGHTS
Hand Made
Custom skin tone, hair color and length
Hard to find item!!!!!
Gifts for a Pre Teen Boy Dancer
Picture Book
This is a retelling of the classic story the 12 Dancing Princesses that many little girls have gone to sleep at night listening to. Dancing legend Debbie Allen has retold the story using 12 brothers and setting it in Harlem to create a modern and fresh take on the story. Any pre teen boy would love this story! Buy it from Amazon here.
HIGHLIGHTS
Classic story retold to ignite boys imaginations
Retold by dancing legend Debbie Allen
Vibrant illustrations to keep readers engaged!
Ballet Boys T-Shirt
This t-shirt from Etsy comes in few other styles that you might like to check out such as the five boy dancers print from above. I love that these t-shirts have simple pictures on them with boys with different skin tones rather than a witty quote which can be inappropriate for young kids. Click here to get it from Etsy
HIGHLIGHTS
Kids sizes XS-XL
Personally designed by a seller on Etsy.
Different prints available.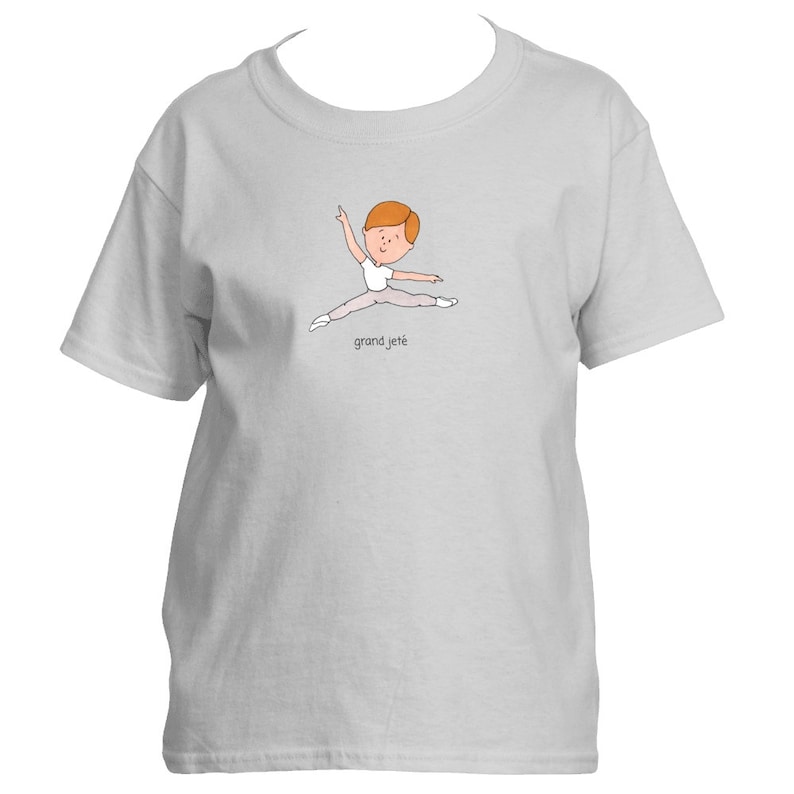 Dance Bag
This is a great duffle dance bag that comes in different colors but the best for boys is probably this grey style. It is a great bag that includes an extra zippered compartment for shoes and inside with ample space for everything a dancer needs to take with them to class as well as a mesh water bottle holder on the outside. You can buy it from Amazon.com here. If you would like to take a look at all of our recommended dance bags click here to go our resource page for more options!
HIGHLIGHTS
Compartment for shoes
Big enough to hold everything a dancer needs.
Lots of pockets for organization.
Gifts for a Teen Boy Dancer
Chapter Book
Like any good book, it should be read before seeing the movie. This extraordinary memoir of a young boy plucked out of poverty to study ballet in China not only explores the world of dance but will expose your dancer to a different culture, way of life and the thrilling adventure of defection from China to the US that will keep them on the edge of their seat wanting to read more. Buy it from Amazon here. There is also a young readers edition available if you are concerned your teen is not ready for either a dense text or adult themes. You can get the young readers version here from Amazon.
HIGHLIGHTS
Available as a young reader and audio book
Tells the story of a famous male dancer
Will take your dancer on a journey into another culture.
Teen Dance T-Shirt
This t-shirt comes in several colors and I think it has a clever and witty quote that teenage boys would actually wear. It is masculine and portrays dancing as being cool. You can buy it from Amazon here.
HIGHLIGHTS
In mens sizes Small to 3XL
T-Shirt comes in 5 different colors
Some colors are 100% Cotton.
Dance DVD
Anatomy of a Male Dancer is rated 13+ by Amazon Video and is a wonderful insight into the world of dance and what it takes to become a professional dancer. It follows Brazilian ballet star Marcelo Gomes through his day to day life and has many dance scenes within it as well to keep any teen boy dancer captivated. You can buy it here from Amazon
HIGHLIGHTS
Rated 13+ great for teens
Rare behind the scenes look into a dancers life
Uplifting but also delves into the emotional toll of dancing.
Gifts for an Adult Dancer
Memoir
This book has a 5 star rating on Amazon and the blurb for the book is absolutely fascinating. From football to the corps of the American Ballet Theatre this book has it all, that I think any adult male dancer would relate to. Buy it from Amazon here.
HIGHLIGHTS
5 star rating on Amazon!
Anecdotes and stories about his experiences with the ABT.
A revealing story about a career in the corps de ballet
Adult Dance T-Shirt
A great gift for any male dancer would definitely be one of these t-shirts with a great word swap and take on the famous movie franchise Star Wars. It is witty and fun and any male ballet dancer would surely wear this! Buy it from Amazon here.
HIGHLIGHTS
Available sizes Mens Small to 3XL
Comes in 5 colors
Solid colors are 100% cotton.
Dance DVD
This is a documentary about the life of the legendary dancer Sergei Polunin who was the youngest ever principal dancer with the Royal Ballet at the age of 19. With 195, 5 star reviews on Amazon it needs to be watched by any dancer! Buy the DVD from Amazon here.
HIGHLIGHTS
5 Star reviewed on Amazon
Available on Amazon Video as well
Rare insight into the life of this stunning dancer
So the gifts above were specific recommendations for Male dancers. For more ideas, we have a post on the 10 things every dancer needs, with 70 more unique gift ideas included. We cover items for all dancers such as ballet barres and warm up boots there as well as DIY ideas and gift experiences. Click on the following link for more ideas!