The Best Gifts To Give A Female Dancer
---
Buying a gift can be hard, because honestly our kids today already have so much stuff and we don't want to give them just anything that will not be held with joy during our next Kon Mari decluttering spree. So on this page, I have collated a few select gifts that any girl dancer would appreciate receiving.
I believe as an educator and mother the best present to get any dancer is a book about dance. Books are windows to the world and a great outlet for the creative mind. I love that you can personalize a book with a message inside the cover to preserve the date and occasion for the gift and choosing a great book will mean your dancer will most probably keep it in their collection forever.
The list includes my top pick for a book as well as a few carefully selected ideas specific to girls that they will hopefully love and cherish forever. But to be honest although I have categorized these gifts in age groups – so many can cross over – because lets face it what teen girl wouldn't also cherish a teddy bear dressed in a matching costume as much as a tiny dancer?
Gifts for a Young Girl Dancer
Picture Book
This is a beautiful picture book about the life of the infamous Ballerina Anna Pavlova. The text is just long enough to keep any young dancer engaged with a few sentences on each page. And it includes lots of big colorful illustrations that will fascinate even the smallest of dancers . Buy it from Amazon here.
HIGHLIGHTS
Beautiful Colorful Illustrations
Tells the story of a famous male dancer
Is part of a series about innovaters in our world
Ballerina Board Game
I love HABA and have played many of their games with my kids! I have found they are simple and easy to play and a fantastic way to introduce board games to young kids. What I love about this game is not only is it a co-operative board game, but it also teaches children the main positions in ballet which is an added bonus to the fun they will have playing it. You can buy it from Amazon here.
HIGHLIGHTS
For players 3+ in age
It's a co-operative game (No losers!!)
Great brand, sturdy long lasting product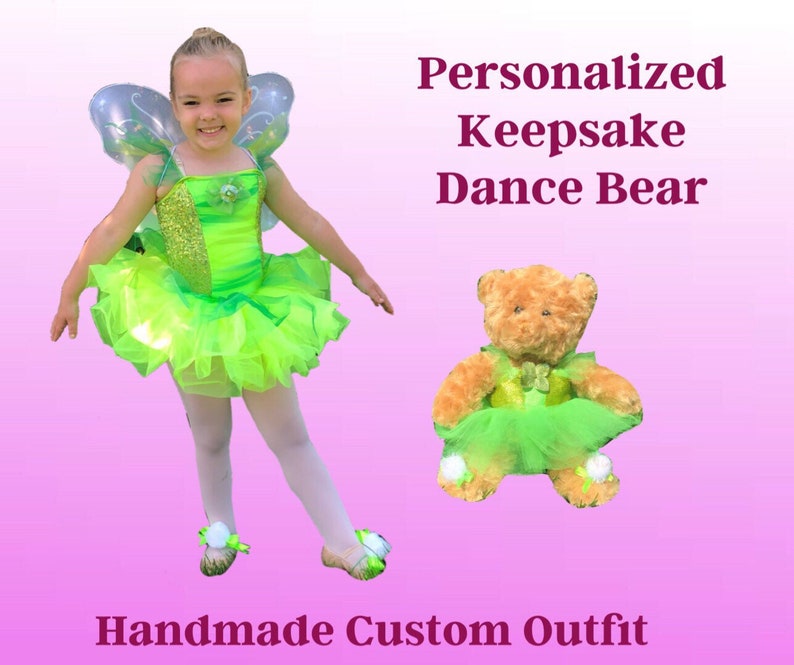 Keep Sake Bear
This would make a perfect first recital gift for any young dancer. All you need to do is send a photo of your dancer in their costume and Ashley the shop owner will replicate as closely as she can an outfit on a 10 or 14 inch sized teddy bear for a very reasonable price! I love the photos in her review area with tiny dancers in their costumes with their bears. Buy it from Etsy here.
HIGHLIGHTS
Replicates your child's costume on a teddy bear from photo
Teddy Bear is included in price
One of a kind gift!
Gifts for a Pre Teen Girl Dancer
Picture Book
Dancing legend Debbie Allen has written a story about a little girl who doesn't exactly feel as though she fits the mould of a ballerina. Her feet are too big and arms are too long and she has to grapple with getting over her body limitations and turn them into her greatest assets. Any pre teen girl would love this story! Buy it from Amazon here.
HIGHLIGHTS
Beautiful narrative to motivate and encourage all dancers
Authored by dancing legend Debbie Allen
Vibrant illustrations to keep readers engaged!
Handmade Ballet Dolls
These dancer dolls are absolutely gorgeous, all my kids love hugging something as they go off to sleep so why not get your dancer one of these adorable hand made dance dolls! They are lovingly made by Lizeth Solis in the USA and she ships to most places around the world. Buy it from Etsy here.
HIGHLIGHTS
Hand Made
Custom skin tone, hair color and tutu color.
From a 5 star seller on Etsy
Ballet Bag
This great little drawstring bag would be perfect to put dance shoes in to keep them separated within a bigger dance bag. The bags are customizable so you can get your dancers name on them and within the Oliver&Olivia Etsy shop you can find a dancer with the hair and skin tone to match your dancer. Shop owner Jill is located in the states and also sells pillows and purses with the same designs. You can buy it from Etsy here.
HIGHLIGHTS
Customizable with dancers name
Big enough to hold everything a dancer needs.
Lots of pockets for organization.
Gifts for a Teen Girl Dancer
Chapter Book
Misty Copeland was the first African American Ballerina to be promoted to principal at the American Ballet Theatre and her story on how she got there is truly amazing! Buy the full version from Amazon here. There is also a young readers edition available if you are concerned your teen needs an easier read. You can get the young readers version here from Amazon.
HIGHLIGHTS
Available as a young reader and audio book
Tells the story of a famous female dancer
Written by the dancer herself!
Watercolor Portrait
It is unbelievable what you can get today because of the ease of technology. Simply send Rachael from Sugar Plum Arts on Etsy a photo of your dancer and she will create a beautiful watercolor painting of their movement! You will need to frame it, but it is a stunning personalized gift that your dancer will cherish! Rachel also creates caricatures if that is what you are more into as well. Order your painting from Etsy here.
HIGHLIGHTS
Personalized water color painting
One of a kind gift
You can choose colors used
Dance DVD
This DVD might be from the 90's but it is a treasure trove of information for any aspiring young dancer. Produced in conjuction with the American Ballet Theatre and Metropoliatan Opera Guild it covers over 800 variations, some in slow motion and is over four and a half hours! The movements are demonstrated by four former professional dancers from the ABT, Royal Ballet, New York City Ballet and the Joffrey. Need I say less – this is a must have for any serious dancer!!! You can buy it here from Amazon
HIGHLIGHTS
Rated 13+ great for teens
Rare behind the scenes look into a dancers life
Uplifting but also delves into the emotional toll of dancing.
Gifts for an Adult Female Dancer
Memoir
There are sooo many great books to choose from but I chose this not only because it is a great story, but because I was lucky enough to meet and take a class with Gelsey Kirland during my performing arts training and she actually took the time to compliment my port de bras!!!! Her New York Times best seller memoir written with her husband is a no holds bar type of book which takes you on a journey through drug addiction and the high pressure world of dance. Buy it from Amazon here.
HIGHLIGHTS
Was a New York Times bestseller
A raw insight into what can be the dark side to dance.
An intriguing book that you'll want to reread.
Adult Color In Book
A great gift for any adult female dancer would a calming and centering adult coloring in book and this is a great one with dance inspired images throughout. Add a packet of pencils and you have a complete gift. Buy it from Amazon here.
HIGHLIGHTS
40 Images to color in
Variety of pictures, not just ballerinas
Lots of detail to color in
Dance T-Shirt
This Meet Me at the Barre Muscle-T by Spunky Pineapple is witty and ultra comfortable. With extra low armholes and a curved bottom hem this will be a staple in any dancers wardrobe. Buy it from Amazon here.
HIGHLIGHTS
Comes in four different colors
Sizes Small to XXL
Each order is screen printed by hand.
For more ideas, we have a post on the 10 things every dancer needs, with 70 more unique gift ideas included. We cover items for all dancers such as ballet barres and warm up boots there as well as DIY ideas and gift experiences. Click on the following link for more ideas!