Do you need to buy a present for a dancer or are you struggling to find the perfect gift for your little ballerina?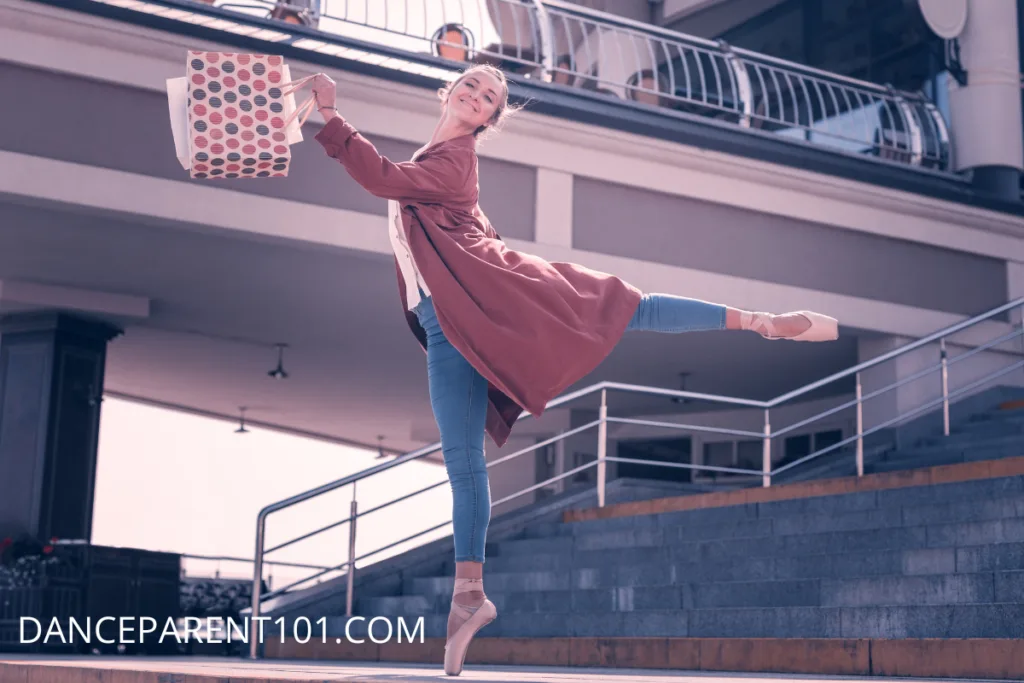 You would think that a dancer would be easy to buy for, I mean you can buy them anything with a tutu or a tap shoe slapped on the side,
But…
will that gift actually be used or will it be shoved onto a shelf to gather dust?
Fear no more as we have a list of 10 things all dancers need and will actually use.
10 Things Every Dancer Needs to Have!
10 Things a Dancer Will Find Useful….
---
---
---
---
---
---
---
---
---
---
---
10 Gifts for a Dancers Bedroom or Home
We have a whole article dedicated to dance themed bedroom decor ideas here!
---
---
---
---
---
---
---
---
---
---
---
10 Dance Accessory Gifts
Click on the headings for direct links to products or our reviews and resource pages!
1. Water Bottle
Every dancer needs a water bottle and having a unique bottle with a motivational quote or a dance image on it can help to inspire and encourage during, after or even before a class.
2. Dancer Stationery
Everyone loves a good stationery set, whether it be for writing old school actual mailable letters or for writing to-do lists and goals you can't go past a pretty pen and paper set especially if it has been specially designed with dancers in mind!
3. Umbrella
Now, this is one item that I recommend buying with a little ballet paraphernalia embossed on it. Why an umbrella – how many times has a dancer turned up to class, a competition, exam or recital all dressed with makeup ready to get out of the car and it starts raining.
A cute umbrella with a dance design with a quick note advising it should stay packed in the dancer's dance bag could be the perfect gift that no one else thinks of!
4. Jewelry
Most dancers are not allowed to wear jewelry during dance class in case it gets caught or falls out.
I had one ballet teacher ask me to remove my small gold hoops from my ears because she knew of a dancer who needed to get stitches after another dancer's little finger hooked the earing ripping it from her ear…. ok so you really want to buy jewelry now, don't you!!
But we are not talking about jewelry for dance class, we are talking about jewelry with dance designs such as a necklace with a ballerina charm on it or a bracelet with the word dance for wearing daily.
Now some people might say that this is just a marketing ploy and a way to get people to buy the same thing – another bracelet for example – in a different way, but when you immerse yourself in something and are constantly reminded about it such as seeing the word dance on your wrist as you scan your bus ticket or use your house key you are reminded of your passion and ignited to do your best in whatever you are doing to help pursue your dream!
5. A jewelry box or jewelry stand
Now I have to say that the old Ballerina Music Box will never get old.
It is wonderful to see someones face young or old light up when you lift the lid of one of these boxes to be welcomed by a pirouetting ballerina to the tinking of the music box music.
Alternatively, you might like to buy something a little more modern such as a jewelry stand in the shape of a dancer.
6. Key Chain
Now if your dancer isn't yet old enough to have their own set of house or car keys you might be wondering why you would buy one of these.
But even young kids love key chains as they can put them on the zippers of their dance bag to help identify which one is theirs in case there is someone with the same or similar bag.
7. Makeup Kit
All dancers need a good makeup kit with all the dance makeup staples.
A kit is a great way for a new dancer to make sure they have everything they need!
But even if they already own everything, makeup has a limited shelf life and should be replaced frequently. Having a backup can also come in handy for those times items are lost or broken or run out!
8. Hair Accessories
In actual dance class, students are generally not allowed to wear jewelry or big bows or things that distract from the dancer or could fall out or off the dancer causing injury to anyone who steps on that item.
But dancers still need hair clips to keep the strays off their face and like to wear dance-themed hair accessories when not in class so a nice hair beret or scrunchie to go around their bun or a beautiful fun or classy bow set depending on your dancer's personality could be the perfect gift for them.
9. Wig or Fake Hair
Did you know that many dancers add on extensions to their hair for performances, competitions, and recitals?
Wearing a wig or extension makes getting ready for performance so much easier and can mean that there is a more uniform look between performers in a group if they all wear the same hair extension in a color that matches their own hair color.
Instead of curling their hair a wig attachment in full curls can be pinned over a bun or a ponytail can be extended to make it look as though the dancer has long hair.
10. Dance Toy
Toys are the accessory of the younger dancer.
Whether it be a toy ballerina, a dance ribbon set or a doll based on their favorite dance TV show like Angelina Ballerina or Emma from the wiggles you are sure to find something your little dancer will enjoy playing with.
10 Things a Dancer Can Enjoy….
Click on the headings for direct links to products or our reviews and resource pages!
1. Non-Fiction books about dance
When I grew up some of my favorite books were ones with pictures of dance school students demonstrating the five positions of the feet, how to execute the perfect rond de jambe or developpe, peppered with a little history about ballet.
Check the best selection of non-fiction ballet and dance books for both younger and older dancers on our resource page or take a look at these books for kids that also teach the ABC's or 123.
2. Dance Biographies and Memoirs
When I was 12 I picked up a novel because it had a picture of ballet shoes on the cover, I didn't realize it at the time but the story was based on the author's life and I learned all about being a Jew during world war II. This is just a type of dance biography, there are many others that take their reader on a journey of discipline and hard work.
Sometimes the world or people around us don't understand our passion and being able to immerse yourself into the life of someone who has trodden the path before you can be immensely inspirational.
3. Fiction Books about dance
There are many picture books and novels and even series available based on dance that cater for dancers of all ages.
If you check out the dance book resource page you will find I have a whole heap of different articles with links to the best books for boys, about diversity in dance and the best fiction books for various ages about dance.
4. Dance Movies on Dvd
Help build your favorite dancers, dance movie collection!
There are hundreds and thousands of movies that are either based around dance or have iconic dance routines in them that make dancers fall in love with watching them over and over again, stopping and pausing to learn the moves and choreography.
From oldies such as Footloose and Flashdance to more recent movies such as Disney's Nutcracker, or the soon to be released movie version of Cats or the latest dance movie releases High Strung or Driven to Dance.
5. Dance Documentary on Dvd
Dance documentaries can be in the form of a visual history of dance or ballet, about the life of a dancer or choreographer or it might be about a dance festival or convention, a behind the scenes look into a prestigious dance school or theatre, or could even be a box set about a reality series based on dance.

6. Dance lessons or Pilates/Yoga Instruction Dvd
All dancers need to practice and rehearse outside of the classroom and having access to good training can be as easy as putting on a DVD and rehearsing in your lounge room.
Some dancers also like to enhance their dance training with Pilates or Yoga and after dancing four nights a week it can be nice to be able to stay home and train in your pajamas.
7. Online dance class subscription
Feeling like DVD's are becoming a thing of the past?
Well, now dancers can access the expertise of a good dance teacher through a class subscription service or by purchasing an online course instead of a physical DVD set.
8. Dance Magazine subscription or copies
There is nothing like flicking through the glossy pages of a magazine with a cup of tea or coffee on a Sunday morning and what would make it even better is if that magazine was a dance magazine gifted to you through subscription from you best friend, cousin, aunt, uncle etc… in the world!
Join Prime Video Channels Free Trial
" target="_blank" rel="noreferrer noopener">
Want to give something truly unique?
Why not gift a pay-TV subscription!
There are new programs and channels being made and produced all the time about dance as purposely made for that subscription TV services.
Is your dancer obsessed with a dance show, but can only watch it if they have paid up? This might be the perfect gift!
10. Vouchers to purchase Dance Apps
Now although you can't actually yet gift apps to people you can gift them iTunes or google play vouchers with a list of great dance apps they should buy.
Better yet you could sit and have some special one on one time and buy and upload dance apps and play or use them together!
10 Gifts a Dancer Can Wear
Click on the headings for direct links to products or our reviews and resource pages!
1. Leotard
Many dancers attend dance studios that have a set uniform but many others are allowed to wear whatever they choose and on occasion will attend conventions, camps, and intensive workshops or a class where they don't have to wear their uniform and at these times they generally like to express themselves a little more.
I know my girls would love some special and fun leotards that are a bit different in cut, style, and patterning or are the latest release from a dancewear designer!
Dancewear Solutions has a great range of leotards and you can go and see exactly what they have to offer from the title link or by clicking here.
2. Active Wear
More and more, activewear is becoming the day to day clothing choice of dancers and athletes.
Want to practice stretching while doing your homework or watching TV – absolutely and you can because you are in your stretchy comfy leggings that your best aunty or uncle (insert your position here) bought you!
3. Dance Shoes
Ok so generally a dancer will have the basics covered such as their ballet, jazz or tap shoes, but you could ask if they are in need of a new pair and offer to buy them for them.
Alternatively, there are a few shoes that your dancer probably covets but hasn't bought because they might not necessarily need them but would love to own or try dancing in them.
These might be foot thongs, foot wraps or foot gloves, dancer socks, dance sneakers or something else they really want.
4. Knee Pads
When I danced, I had a lovely pair of blue (or you could get red) pair of knee pads that saved my knees during many jazz, contemporary or lyrical classes.
Today you can buy them specially made for dancers and in more neutral colors. Your dancer's knees will love you for them!
5. Dance Quote T' shirts
A T'shirt – how boring you say??
Not at all my friend! T'shirts are always going to be a useful winner and your dancer will wear it whether it be to dance class, to the movies, or even to bed because you have chosen one with a witty or awesome dance quote which they just love!
6. Dance themed clothing
Does your dancer need a new pair of flip flops or socks?
Why not find a pair that has a ballerina or a pair of tap shoes printed on them? This could make a really special but also useful gift!
7. Warm-up gear
Before a dancer starts class they should be stretching and warming up their muscles and usually, they will do this with a few custom pieces of dancer warm-up clothing on.
Generally, most schools allow students to keep a few layers of clothing on over their leotards during a warm-up.
These warm-up pieces made by specialty dancewear manufacturers might include woolen tights, leg warmers, dance pants, knitted pullover and more.
8. Dance Uniform
Does your dancer want a special jacket, sweater or hoodie as part of their dance school uniform or something similar? Sometimes these items are not part of the official uniform but are offered as an extra. For example, my daughter's dance school have a hoodie with the dance schools logo on it and students can get their names printed on the back.
She is allowed to wear it to class and to warm up in, but they have a separate tracksuit to wear for competitions and are allowed to wear any sweater to warm up in.
We didn't need to get the hoodie, and I was going to secretly order it for a gift, but she wanted it so badly that she ended up paying for it herself with her savings. Had she not had the money, it would have been an excellent gift!
9. Costumes
Did you know that parents pay a costume fee for their child to participate in a recital?
If you are a friend or relative perhaps you could offer to pay this fee for the dancer! Or does your dancer do competitions and have their eye on a certain costume that is out of the budget you set?
This might make a great surprise present that they weren't expecting, especially if you set them up to think they are getting the version that was on budget!
10. Period Underwear
Do you have a close relationship with the dancer you are buying a gift for? Well, perhaps period underwear is the unique and perfect gift you are looking for and coming in at over $20 a pair they are certainly giftable!
It is hard being a female dancer and not knowing when your period might arrive or be on the last days of your period and wanting a better solution than you already have.
Period underwear is reusable, washable underwear that can hold 1-4 teaspoons of liquid depending on the style chosen, making them a great option for dancers on their light days or for extra protection from leaking or when you are waiting for your period arrive.
You can check out our review and recommendations on our resource page here.
10 Experiences You Can Gift a Dancer….
1. Pay for their Dance Classes
Did you know that most dance schools charge fees on a monthly or term basis?
As a parent perhaps you could decide to add on an extra lesson your child has been wanting to do as a present or gift for them.
If you are a friend or relative maybe you could ask how much a month or term of lessons costs and pay or put money towards those.
2. Dance Camps, Intensives and Conventions
A dance camp, intensive or convention is either a class, day or week of classes taught by experts in the industry.
Perhaps your dancer has been wanting to attend one but couldn't either because of the cost or distance.
It could be that you buy them their class tickets or even offer to drive them or pay for their bus or airfare as a gift or present.
3. Tickets to a professional performance
Everyone loves going to a good Ballet or Broadway performance.
Check out what shows are being produced both locally and within your dancer's state and you will be sure to find something they will like attending.
And perhaps the best bit would be if you were able to personally take them and spend time with them!
4. Tickets to a performance at a school they are interested in attending
Is your dancer thinking of changing dance schools or studying dance at a pre-professional dance school or studying dance in college?
You could buy them tickets to those schools next performance to help them make their decision or help them take their next leap to further their dance training and career.
5. A private dance lesson with you
Whether the person you are buying for is a ballerina or a hip hop dancer, enjoying a social dance lesson with them will always be fun and a great way to spend some one on one time with one another and create memories that will last a lifetime.
You can find a class like this by looking for a ballroom dance school near you and either signing up for a group class or requesting private tuition.
6. A private lesson with a sought after teacher
Could you organize a one-off class or series of private lessons for your dancer with an expert or sought after teacher, dancer or choreographer that they admire?
The best way to check if someone does this is by looking at their social media pages where they might have a contact form just for these occasions, or by ringing a venue where they already teach to get in contact with them.
7. Massage or other remedial experience
I would be hard-pressed to come by a dancer who didn't enjoy a massage or some other form of remedial experience whether it be acupuncture, cupping or reflexology.
An hour of whichever form of therapy you believe most in, will always be gratefully received by a dancer.
8. Pilates or Progressing Ballet introduction class or term
Pilates is a form of exercise that focuses on developing core strength within a person and is not just for dancers.
Progressing Ballet Technique however is a form of exercise that helps dancers connect with correctly using their muscles and increasing dancer muscle memory, but classes are not available everywhere.
Both forms of exercise are beneficial for dancers, and gifting an introduction class or a term of classes could be just what your dancer needs to help give them that edge in improving.
9. Intro class or term in a style they have never tried
Has your dancer ever said oooh I would like to try that African dance class or a salsa lesson or even learn the newest style to hit the dance class hit list the Waacking Technique?
But because these lessons would be more for fun they haven't tried them? Perhaps an intro class in the style or a term of lessons can help keep their passion for dance burning!
10. Tour of a top ballet school/theatre
This one you might not even have to pay for! Is there a prestigious ballet school in your town or state that has an open day for prospective students?
Find out and then gift the experience to your dancer by taking them! I can remember going and watching classes at the state school of the arts on their open day and I absolutely loved it!
The problem was I went only with some other dance friends and all I thought was how inadequate I was compared to those girls and how there was no way I would ever get in – I am sure that if I had, had a supportive adult with me encouraging me perhaps I might have thought more positively and perhaps even had the courage to audition for that school!
Theatres and Ballet/Dance companies also have open days and tours throughout the year, but these you generally have to pay for and book in advance to attend, but would also make a great gift for a dancer.
10 DIY Gifts you can make for a Dancer
Click on the headings for direct links to products or our reviews and resource pages!
1. Dance shoe bag/slip or cover
Can you sew? How about making some shoe slips or covers to help organize your dancer's shoes in their dance bag? A simple slip can be made by sewing two rectangular pieces of material together and sewing in a drawstring at the opening. You could paint on, sew on or embroider a cute design or word as well.
2. Knitted or crotcheted dancewear
Can you knit or crotchet? How about knitting a pair of leg warmers or crotcheting a dance top for your dancer?
3. Knitted or crotcheted key chain or Christmas ornament
You aren't just limited to clothing you could crochet or knit a ballet slipper to put on a key ring or make into a unique Christmas ornament.
4. Dancer Memory Display
Has you dancer recently grown out of their dance shoes, do they have a lot of medals or ribbons and do you have lots of photos of them in their dance gear? How about making a memory display for their wall from all this memorabilia!
5. Photobook of your dancer
Do you have a million photos of your dancer on your phone? How about uploading them to a photo book service and giving your child a copy. It might even work out as a great gift for their grandparents, godparents or aunts and uncles if they are avid followers of their dance journey.
6. DVD of your dancer
Do you get your dancers solo routines filmed at competitions but have them on a few different DVDs or USBs?
Do you have every annual recital DVD but your dancer is only in two out of the 20 routines on each DVD?
Consider putting all the performances of your child together into one move project. You could create a menu so they could access each performance individually or just press play and let them watch all of them one after the other.
7. DIY Dance Ribbons
Do you have a younger dancer? How about making them some handheld dance ribbons that they can shake and wave whilst dancing at home.
8. Wall Art
Now I am not an artist but I am fairly sure I could do a crayon melt picture or a splat painting where you cut out the silhouette of a dancer and allow the melt the crayons and allow them to drip down around the silhouette or splat on paint then remove the silhouette to get the image of the dancer left inside the paint splats.
Combine this with your dancer's name or a quote and you have a personalized and meaningful present for your dancer.
9. Dance Wear
Can you sew? Buy some material and make your dancer a new pair of leggings or a unique crop top that no one else will ever have!
10. Hair Accessories
Hair accessories can be quick and easy to make.
Source a whole heap of ballet trinkets from the dollar store or online and use a glue gun to combine these with ribbon and rhinestones to create one of a kind dance-themed clips, pins and, berets for your dancer.
MORE IDEAS….
If you want to get even more specific, you can have a look at our articles: